As we gear up for the swiftly approaching holiday break,
readying our galleries for the throngs of families that will soon grace our
doors in search of meaningful experiences, we thought to take a closer look at
the perfect family destination within Glenbow – the Discovery Room!
Located at the top of the stairs on our second floor, the
Discovery Room is a bright and colourful space that sparks wonder and
excitement for all who enter. Here, you will find the friendly faces of our Museum
Educators who are eagerly interested in your museum visit. If the Discovery
Room is the first stop on your museum journey, they will assist you in planning
which galleries to see (because let's face it, we can't see all of Glenbow in a
single visit!). You will be invited to take a guide for Explorations in Art; a
scavenger hunt that will lead you through the exhibition of your choice. This
is a wonderful way to focus your experience with your curious little explorers.
As you look for the clues in the galleries, you'll no doubt have a few "aha!"
moments to share a laugh in.
Once you've seen all that Glenbow has to offer, take a
moment to relax and reflect in our Discovery Room lounge. Exploring three
floors of amazing exhibitions can really take it out of you, plus you'll need
to channel all the creative energy that has been building so you can take part
in our art-making activities!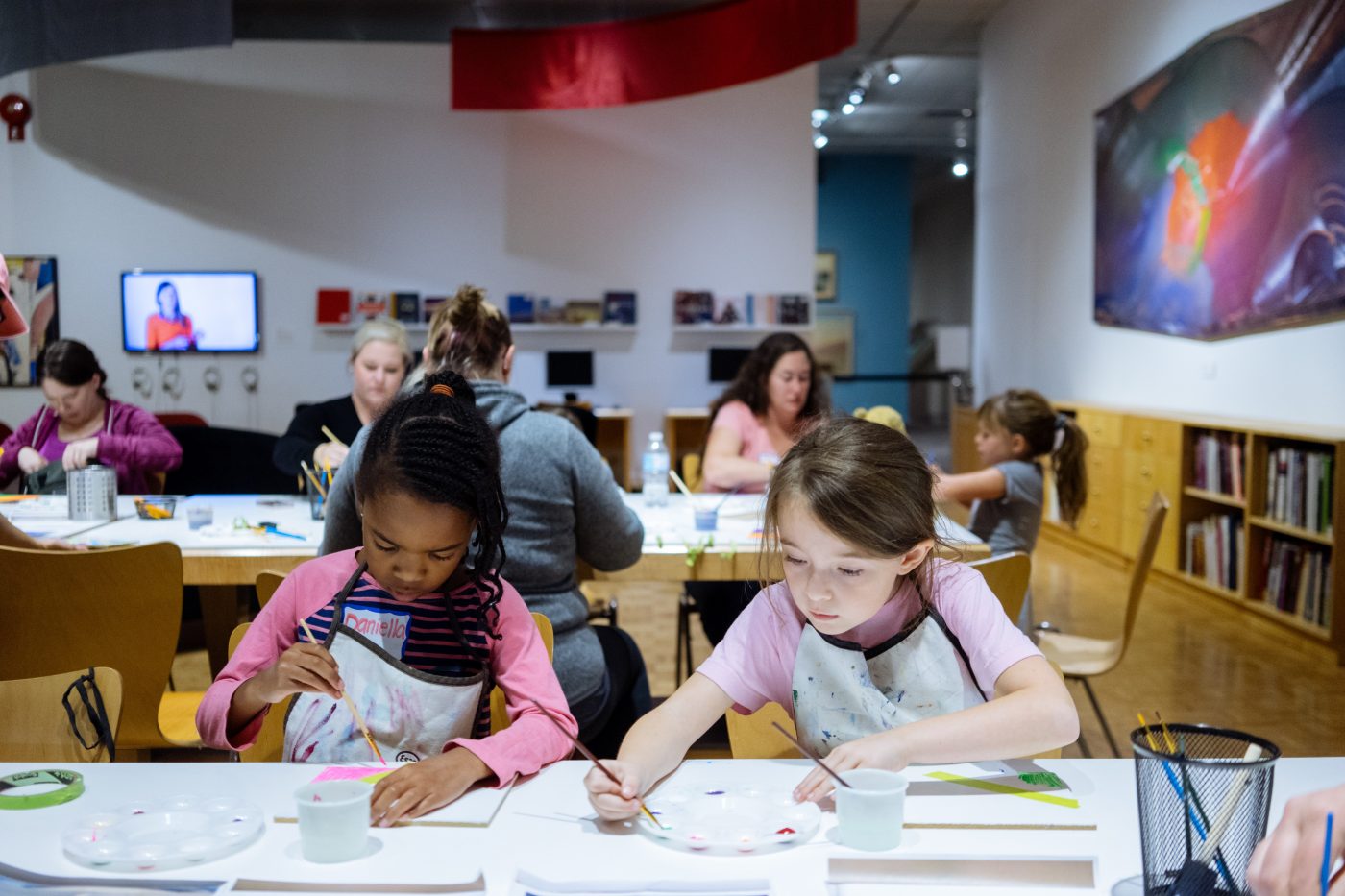 The Discovery Room draws creative connections from the themes and art mediums presented in Glenbow's feature exhibitions on the second floor. This space bridges the gap between the masterworks on our walls and the endless possibilities you can create with your own hands. Our Discovery Room cabinets are fully stocked with every art medium you can imagine, and we bring them out to highlight the work of our feature artists to give you an even greater sense of their practice and process.
This season, we are celebrating the artwork in our feature exhibition, Sybil Andrews: Art & Life. A visionary artist, Sybil Andrews found her artistic voice in the form of the linocut, a printmaking medium that demands directness and dynamism. Andrews' striking images are characterized by her bold use of colour and line. By stripping out extraneous detail, Andrews was seeking to "eliminate non-essentials to learn that great lesson of balance." The resulting artworks are vital and eye-catching, often capturing a sense of energetic motion. In the Discovery Room, we bring the artist out of you with simple techniques that produce some truly amazing works of art.
Our Foam Printmaking activity gives you a sense of Sybil Andrew's process as you draw an etching into a foam base, roll it with block printing ink and then transfer the image to paper with a burnisher (a technical printmaking tool). You can create more than one print with your etching, which is the magic of printmaking. No one print will look the same and they might not be perfect, but as Sybil Andrews says – "It doesn't matter what happens to the work or picture afterwards. The only thing that does matter is the doing of the work – that it should be done."
Our second art activity in the Discovery Room this season highlights the art of making something special out of the mundane, something creative out of the ready-made, and something extraordinary out of the ordinary. From linoleum to drywall, dead flowers to toilet paper, ordinary, disposable and perishable objects serve as the point of departure for the array of contemporary artworks found in our feature exhibition ExtraOrdinary Objects.
Starting with a ready-made object such as a compact disc,
the goal of this art activity is to transform the original use of the object
into something new and interesting. The reflective glow of the disc shines
through lace, ribbon and cellophane in a really pleasing way. With the holidays
right around the corner, these make wonderful Christmas tree decorations!
Regardless of how many prints you make, how many clues you solve on the Explorations in Art guide or if you simply choose to have a quiet moment of reflection in our lounge, the Discovery Room is a place for everyone. We hope to connect you to the art and culture that makes this city a wonderful place to live, and to connect you to each other as you experience the museum and Discovery Room. We hope to see you over the holidays!