This summer, Glenbow received a generous donation of an artwork from the corporate collection of CNOOC International. This large-scale bronze sculpture by beloved Canadian artist Joe Fafard (1942 –2019) is just over six feet or almost two metres high, and weighs 1,100 lbs, or almost half a tonne.
The sculpture joins ten other works by Joe Fafard already in Glenbow's collection. Those ten artworks include five works on paper, three sculptures, and two ceramic works.
Joe Fafard was born into a French Canadian family of farmers in the community of Ste-Marthe Saskatchewan. He is well-known for his sculptures inspired by his community and farm life, as well as for his intricate portraits of individuals (artists, writers, theorists, politicians, strangers or friends). Many of Fafard's most recognizable works depict horses or cows. His portraits, whether human or animal, were often sculpted from memory, with Fafard emphasizing small details, particular items of clothing, or gestures that expressed the character of the person.
Energy Steeple is very different from Fafard's most well-known work, so we needed an inside source to give us more of the story behind the sculpture. Glenbow board member Jim McLeod was on the art committee at Nexen Energy (now CNOOC International), and was instrumental in bringing the sculpture to Calgary in 2002. He helped fill in the story and told us about the sculpture's life so far.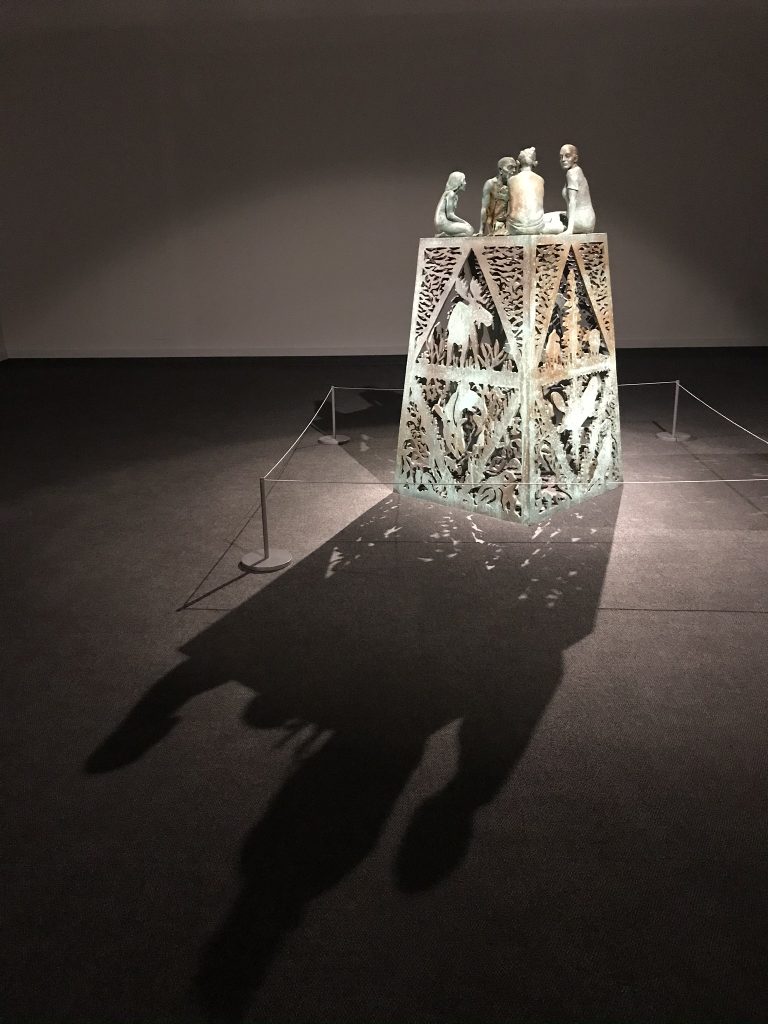 Hi Jim, have you had a chance to see the sculpture installed in the gallery at Glenbow?
Yes I have and the sculpture looked absolutely fabulous. The Glenbow team, as always, did a magnificent job in presenting that sculpture and doing so in such a way, with the kind of lighting that you've incorporated, that really stirred the intent of what Joe Fafard had had set out to do from the onset of designing and executing on that sculpture.
It's interesting that you say that the lighting expresses what the artist intended. Can you tell me more about that based on your history with the sculpture?
I had the pleasure of speaking to Joe about the sculpture. I had met him back in the early 90s, and I got to know Joe quite well. Part of what we needed to do [when Nexen brought the sculpture to Calgary] was to get the story on the sculpture itself. One thing that that Joe mentioned to me was that "the sculpture Energy Steeple is simply a visual work of art" and I'm quoting Joe: "I don't like to limit the viewers imagination and appreciation with my personal perceptions. Energy Steeple thrives on being mysterious and is open to multiple interpretations."
So in keeping with the mysterious qualities that Joe certainly thought were inherent in that sculpture, I think that mood is extended in its current location as part of this exhibition.
(The lighting) really draws you into the sculpture and sets the tone for you to look at it in a very inquisitive way, to interpret what it is the artist is trying to project. As Joe stated, he wanted people to think about it as they think it should be. It's up to (the viewer) to decide who these figures are, what do they mean? Why do we have the negative and positive (cut out) elements in the steeple itself that reveal some very interesting little figures and animals? What does all this mean? We get a bit of a hint with the title Energy Steeple.
As you approach the sculpture it does conjure up all kinds of interesting questions and potential meanings so It's nice to hear that the mystery is intended to be part of the experience. The initial impression is one of seriousness, because the expressions on the faces of the figures are serious, but as you mentioned, there are animals and surprises incorporated into the design, and it feels like Joe Fafard enjoyed the creation of it.
Most definitely. I would certainly say without fail, Joe was always very capable of [creating] sculptures that met the objective of trying to portray to the viewer that there's something more than just what you're seeing at face value. There's an opportunity for you to look at something in a couple of different ways or many different ways.
Energy Steeple was commissioned in the late 1980s by Wascana Energy, in Regina, through the Susan Whitney Gallery. The sculpture was intended for the entrance foyer of Wascana's new corporate office building – Wascana Energy Centre.
Susan Whitney told me how the sculpture was commissioned in the late 1980s. When it was finished in 1990, it was a signature item and was installed on the main floor of the new Wascana Energy Center. And at that time, as [they moved into] their new office space, [Wascana] had small little laser cut mini sculptures made for all their employees. There was a ribbon cutting and there was the sculpture.
And then, after a few years, the sculpture eventually ended up finding its way down to the basement. [Perhaps] it didn't really fit, it was a little bit too heavy for the foyer, and the piece was moved. And it was put into storage. All of a sudden, it's gone. And it's in the basement forgotten about.
The sculpture Energy Steeple is simply a visual work of art. I don't like to limit the viewers imagination and appreciation with my personal perceptions. Energy Steeple thrives on being mysterious and is open to multiple interpretations.
Joe Fafard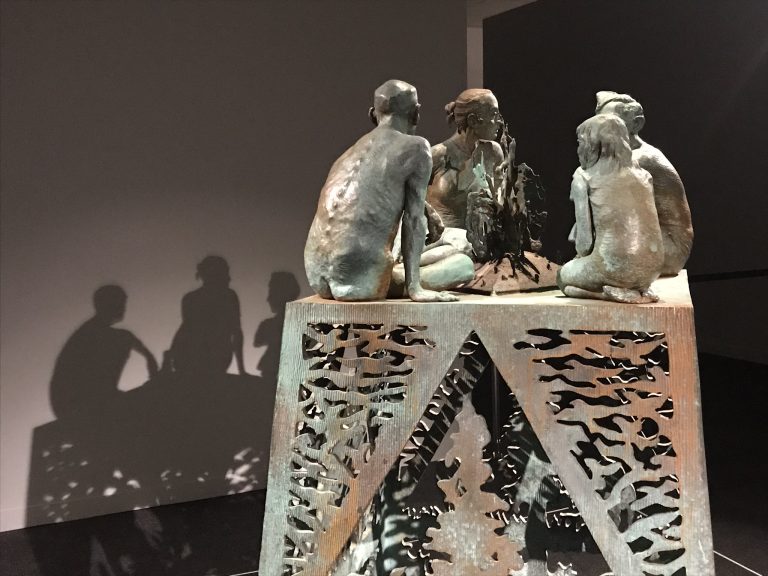 Wascana Energy was ultimately purchased by Nexen Energy Inc. Tell me about how the sculpture made its way to Calgary.
We bought Wascana Energy in 1997 and consolidated the operations here in Calgary. I came back to Canada in 2000 [from Yemen] and one of the projects that [I worked on] was establishing a new office for Nexen here in Calgary, recognizing that we had more people and needed more space. We had about four offices in the downtown core so what we decided to do was consolidate everything in the former Trans Canada pipeline Nova building in the West End of the downtown core.
We knew that we had artwork in several locations but no one had ever pulled it together or really made sense of what we had. So with that in mind, we set off to consolidate the collection by determining what we had, and we put together a catalogue of all the works.
I got a phone call from Susan Whitney, and she said, "by the way, there's a magnificent sculpture here in Regina. It is just in storage. It has no real purpose. And if you do the homework you know it's been there for about roughly 10 years. It's a very expensive piece, and a significant piece. And sadly, it's been relegated to the basement."
So I did some homework and determined that yes, there was a sculpture. Yes, it was in the tower. And I [knew] that I would like to bring it back to Calgary to be part of the corporate collection. And the arrangements were made that I would get the sculpture.
In 2002 the sculpture was transported to Calgary, and installed in the Nexen Tower downtown. Can you tell us about the sculpture's lifespan there and what it meant to people who visited there?
We decided that we were going to install it on the 29th floor of the Nexen tower in the reception area.
And of course what we recognized was that the sculpture was 1100 pounds. We would have to make sure that the elevator, going up 29 floors, was capable of supporting it. And then, once we got [the sculpture] to the floor, did we have the structural integrity capable of supporting and moving that sculpture from the elevator bank out onto the floor plate into reception?  So we brought in our structural engineering company and they determined what was acceptable. The elevator could support the load. [But] we had to navigate along the main structural beams on the floor to get the sculpture into position appropriately.
We needed to put it in the reception area in such a position that it was front and center, so we could illuminate that sculpture in such a way that it provided interest and captured the main ingredients in the sculpture.  [We wanted] to position it as a signature piece for Nexen. We're about energy. This piece is about energy. And [we knew] people would find it interesting to reflect on the kind of [art] collection that we had. We were in a company that was creative, innovative, etc.
So we mapped that out, we got ahold of our design team at the time and asked them to do the necessary changes in terms of decor. And then we were ready to bring it up. We [hired a] heavy lift company and they brought the team in with the necessary equipment to move it, we had mapped off the route that we had to take and we [moved the sculpture in] after-hours and positioned it precisely.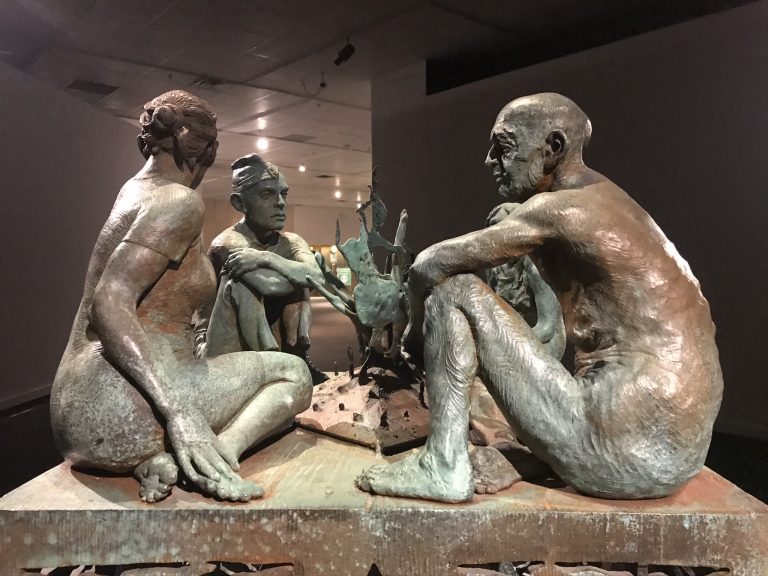 And we reopened on the following Monday. [The sculpture] is a magnificent piece that really became the cornerstone of our collection. It was something that was really, really impactful and absolutely resonated with all the employees.
We would ask our reception team on an ongoing basis, how were people responding to the sculpture? And it was overwhelming. The positive responses we got. Time and time again, our reception team told us, "people come in, but they don't sit down. They're immediately drawn to that sculpture. They study it, they think about it, they often ask for more information about the sculpture."
I retired in 2014, just shortly after we'd announced the acquisition [of Nexen by CNOOC International]. And the sculpture was moved down to the main floor after the landlord had done some major renovations to the main floor [lobby]. It was a great place to showcase that sculpture, so that all people could share in enjoying that sculpture [in a public area] which which was certainly in keeping with what the company had always intended, to make sure that [Energy Steeple] was front and center and fully visible.
And then of course the company moved out of the Nexen tower, and the poor sculpture was stranded at the at the tower for a period of time.
Subsequent to my retirement, I had kept in touch with the company, and they reached out to me to tell me [they had removed the sculpture from the old building] "but we think it should go to somebody who we know is going to make good use of it."
After almost 20 years as an important part of CNOOC's corporate art collection, the sculpture's large scale made it difficult to manage when the company moved to a new building. So they donated it to Glenbow!
I think there is certainly a timeless quality about that piece, and I think [Glenbow is] the right institution or the right venue to have this kind of sculpture and to be able to appreciate what it really means. We're going to get people looking and discussing, and thinking about it. And of course Joe Fafard is one one of Canada's greatest stars. This sculpture, by one of Canada's most significant artists, is now in a safe place.
By donating Energy Steeple to Glenbow, CNOOC has ensured that new generations can continue to enjoy the sculpture. At Glenbow, people can interact with the artwork by moving around it and looking at it from different angles. The best art encounters are the ones that raise questions and spark imaginations. 
About Jim McLeod
Jim McLeod joined Glenbow's Board in 2015 and is past Chair of the Board. Jim is a native Calgarian and a fourth generation Albertan. He worked in the petroleum sector for 30 years, recently retiring from Nexen Energy ULC where he held various technical and management assignments in Calgary and Yemen.
He is a Past President of Calgary's Ranchmen's Club; Member of the Board of Calgary Arts Academy; past Member of the Board of the Leighton Art Centre; past Member of the Board of Theatre Calgary; and, past Member of the Board of Vertigo Theatre. Jim is an avid collector of western Canadian antiques and folk art and Canadian art. He is passionate about community and the advancement of the visual and performing arts.