Glenbow Reimagined
Glenbow is undergoing a complete renovation that will transform our 45-year-old building from the inside out. To help guide the planning and design of the future Glenbow, we are initiating an Indigenous engagement process to invite Indigenous Elders, leaders and cultural Knowledge Keepers to participate in planning Glenbow's future.
We are in the early stages of Glenbow's Indigenous Engagement process. In this stage, participants will learn about the plans for the Glenbow Reimagined renovation project and will have an opportunity to provide feedback and direction to help guide the approach to the overall inclusion of Indigenous cultural sharing at the Glenbow Museum.
In this stage of engagement, we are not reviewing the specific design plans for Indigenous cultural sharing through exhibits and Indigenous collections.
Upcoming Indigenous Engagement Sessions
These online sessions will bring together Glenbow leadership and museum designers with Indigenous leaders and cultural knowledge keepers, and Indigenous Stakeholders, to share information and gather feedback.
We encourage you to sign up for an Indigenous engagement session to learn about the plans for the Glenbow Reimagined renovation project. Your feedback and direction will help guide the designers' approach to the Glenbow Museum transformation.
Our approach is to connect with Stakeholders at the community level. We are offering sessions to connect directly with each community. We welcome any request for an additional sessions for specific groups. Contact us at indigenousengagement@glenbow.org or call 403-464-0916.
Session 7#: Stoney Nakoda Nation
October 25, 2021
1:00pm – 3:00pm
New Evening Session
Siksika Nation
October 26, 2021
6:00pm – 8:00pm
Session 8#: Blackfeet Nation
October 27, 2021
1:00pm – 3:00pm
New Evening Session
Evening Session #3 – Open Invitation
October 27, 2021
6:00pm – 8:00pm
New Evening Session
Kainai Nation
October 28, 2021
6:00pm – 8:00pm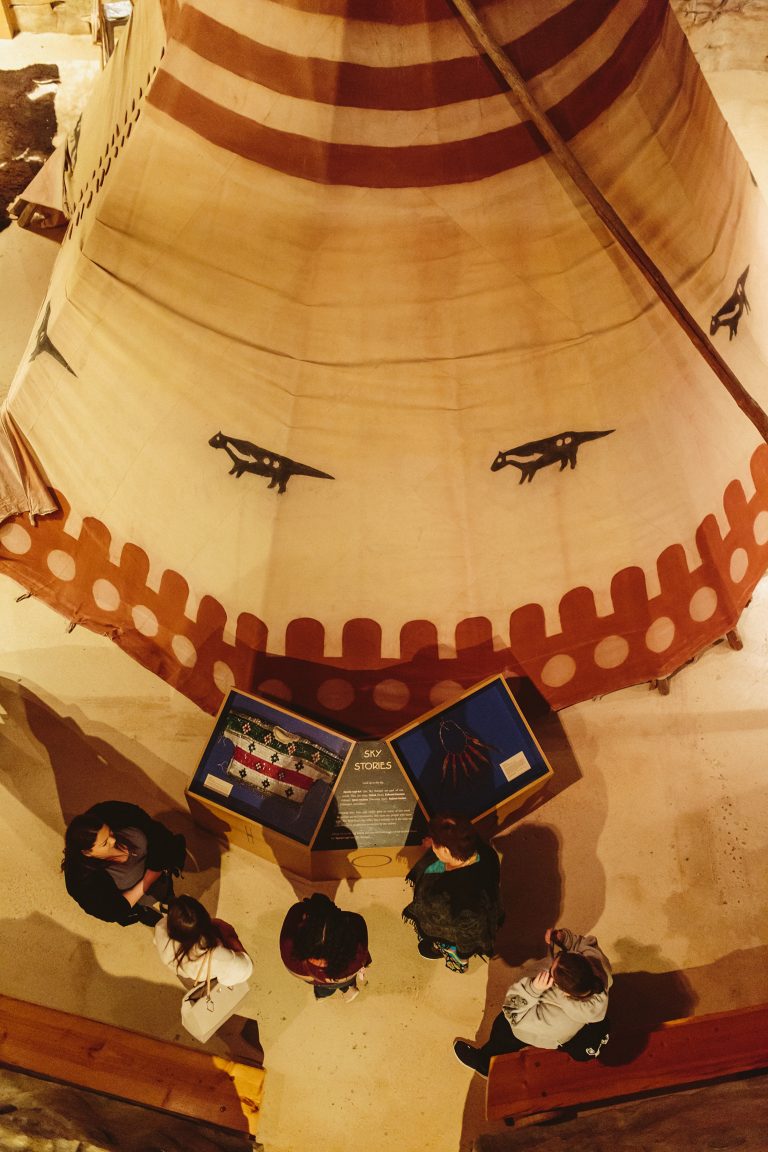 Glenbow's Indigenous engagement process will inform the short and long-term planning and strategic vision of the museum by ensuring meaningful incorporation of Indigenous knowledge and perspectives into Glenbow Museum's building design, space allocation, programming, and operations.
Through a series of group meetings, discussions, one-on-one interviews and surveys with Indigenous engagement participants, Glenbow will engage local, regional and national Indigenous perspectives.
The engagement process reflects Glenbow's understanding of the importance of relationships in the care of cultural belongings and is based on the foundation of promoting reconciliation and building knowledge and understanding of Indigenous perspectives. Incorporating reconciliation into museum practices will guide meaningful engagement with Indigenous peoples with positive impacts for the museum, their Indigenous stakeholders and the partnership between the two.
At the core of the Glenbow Reimagined revitalization project is a complete building renovation, which will transform the museum's aging facilities into 312,000 square feet of vibrant, inclusive spaces and resources. The revitalization will include repurposing all eight floors of the building to include more space for galleries and exhibitions and create new, flexible and adaptive spaces for education and public programming. The new Glenbow will be a vibrant, contemporary, and dynamic cultural institution that will be a destination for artistic and cultural exploration. Inside and around the revitalized building, our priority is to deepen understanding of the stories and connections of Indigenous peoples on their traditional lands. 
About Glenbow's Collection
Glenbow's Indigenous Collection is primarily focused on Indigenous people from the northwestern plains, partially the Blackfoot people, Tsuu T'ina, Cree and Anishinabe, as well as the Metis people of Western Canada and the Inuit communities of the Arctic region. The collection also includes artifacts from the Kwakwaka'wak and Nuu-chah-nulth peoples of the Northwest Coast and the Dene of the Subarctic region, the Iroquois speaking people of the eastern woodland, and the Mi'kmaq of the Atlantic coast. Through our exhibitions and research work, we strive to share information about and offer access to the collection for Indigenous peoples from all regions.
Glenbow has a special relationship with the Niitsitapi Blackfoot community in Treaty 7. 
Glenbow cares for many objects, artworks and belongings in the museum collection that represent Blackfoot history, ancestors, and the living Niitsitapi culture. These items are actively visited by members of the Blackfoot community and used in ceremony, and for cultural learning. We rely on Elders and Knowledge Keepers to help us share the stories of Blackfoot history and culture with everyone.