Contact With The Europeans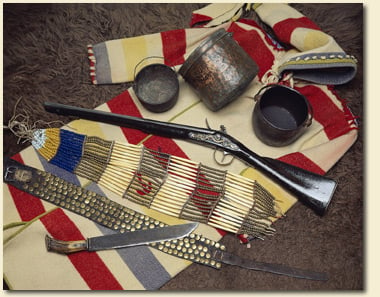 Following Henday's 1754 excursion, it was another 50 years before Europeans again ventured as far west. Peter Fidler, of the Hudson's Bay Company, and David Thompson, who was then working for the North West Company, traveled in the region c. 1800-1802. Fidler established Chesterfield House at the confluence of the South Saskatchewan and Red Deer rivers. This post lasted only a few years. Thompson found a route across the mountains and began trading with the Kt'unaxa, whom he supplied with firearms. After the Kt'unaxa attacked a Piikani camp with their new weapons, Thompson was no longer welcome in Niitsitapi territory.
Niitsitapi did appreciate new goods brought by the European traders and traveled to Fort Edmonton, Rocky Mountain House and the American Fur Company posts at Fort Union and Fort Mckenzie on the middle Missouri River. These posts were, generally, along the edges of Blackfoot territory. The Blackfoot kept their homeland for themselves.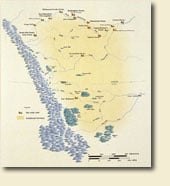 In 1840, 1,000 people crossed the American West from St. Louis on the Mississippi River to San Francisco, on the Pacific Ocean. In 1849, 10,000 people made the trek, along with cattle, horses and other livestock. As American settlers moved west, the First Nations people were dispossessed of their homelands. The compression of cultures and competition for resources exacerbated hostilities between peoples. Superimposed on these conflicts was the newcomers' desire to take control of the land and terminate the First Nations traditional lifestyles.




Next: The Whiskey Trade
About the images:
Trade Goods. Collection of Glenbow Museum
Fur Trade Posts
Trading Posts. The Blackfoot welcomed the fur traders for the new tools they brought. But they did not want the fur traders to build permanent forts in their territory. The forts were built around the edges of Blackfoot territory. Courtesy of Glenbow Museum.