Cultural Protocol - Teaching First Nations Students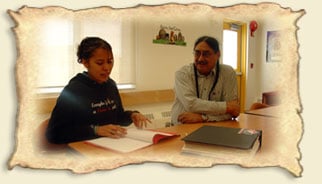 Sally Listener, a teacher at Piikani Nation Secondary School, suggests the following guidelines for interacting with First Nations students in a classroom setting:
First Nations across Canada and the United States are not the same. Each have different cultures. While unique there maybe some similarities found in their stories. For example; all First Nation cultures have creation stories and trickster characters. The Blackfoot Culture's trickster is Naapi.
Do not assume that all First Nation student(s) know about their cultures.
Teaching Blackfoot Students
Research before you teach a Blackfoot concept. If in doubt contact local or reserve personnel to assist.
Know all the First Nation reserves and what language is spoken. For example – only three reserves speak the same language.
| | |
| --- | --- |
| Reserve | Language |
| Siksika | Blackfoot |
| Kainai | Blood |
| Nakoda | Nakoda |
| Piikani | Peigan |
| TsuuT'ina | TsuuT'ina (Dene) |
Know where the reserves are located.
Elders play a very significant role in the education of the younger children. Respect this relationship.
Legend stories are told to teach the young people about their roles and proper behavior.
First Nation people receive their "real names" as soon as they are born. Respect their names because that is their identity.
Traditionally, grandparents raised their first-born grandchildren. Sometimes grandparents raise more than one grandchild. Explain this to other students. Sometimes aunts, uncles or other relations may take this role in a student's life.
Do not force First Nations students to look at you when teaching them. They are listening, but you will know when they do not listen.
Pointing is considered rude in Blackfoot culture.


Next: Instructional Units