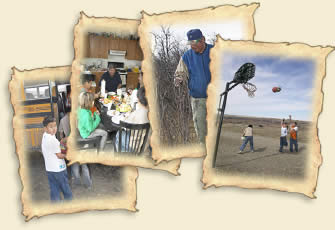 How we Lived with Our Families
Today our lives are very much like other children our age. We live in houses, dress in modern clothing, and listen to rock music.

If our family follows traditional Niitsitapi beliefs, we burn sweetgrass each morning and call upon Naato'si (the sun) to help us for another day.

If we live on a reserve we take the bus to school. Our communities are closely knit and we may be driven to school by one of our uncles and taught by an aunt. Sports are important and our high schools always have good football, basketball, and hockey teams. We study the same subjects as other students.

Keeping our language and culture alive is important. In the past, the government sent children to residential schools where the children were forbidden to speak Blackfoot.

Today many of us take Blackfoot language classes at school and have elders teach us about our traditions.

Many of us learn traditional powwow singing and dancing. Sometimes this is done through a club at school, but we still have to practice for hours on our own.

Our ceremonies can take up much of our time. We have no formal role to play in them, but it is still a chance to visit with our friends. We look forward to the summer and the Akoka'tssini (circle camp, when all clans can camp together) when we can camp out.