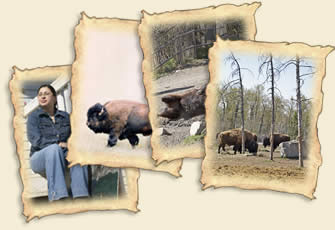 How we Lived with the Buffalo
Today we see iinii (buffalo) only in National Parks or on ranches. Sometimes we buy buffalo meat at the store.
In the past, the buffalo gave our people food, clothing, and shelter. During most of the year we looked for isolated groups and shot one or two animals. In the early autumn, when we began preparing for winter, we killed a large number of buffalo, dried the meat and made mookimaani (pemmican — dry meat, berries, and fat mixed together). We used a pisskan, or buffalo jump, to trap the animals. Join us and learn how we lived with the buffalo.
Read the story about the buffalo calling stone to learn more.
There were many people and steps involved in a successful pisskan (buffalo jump).