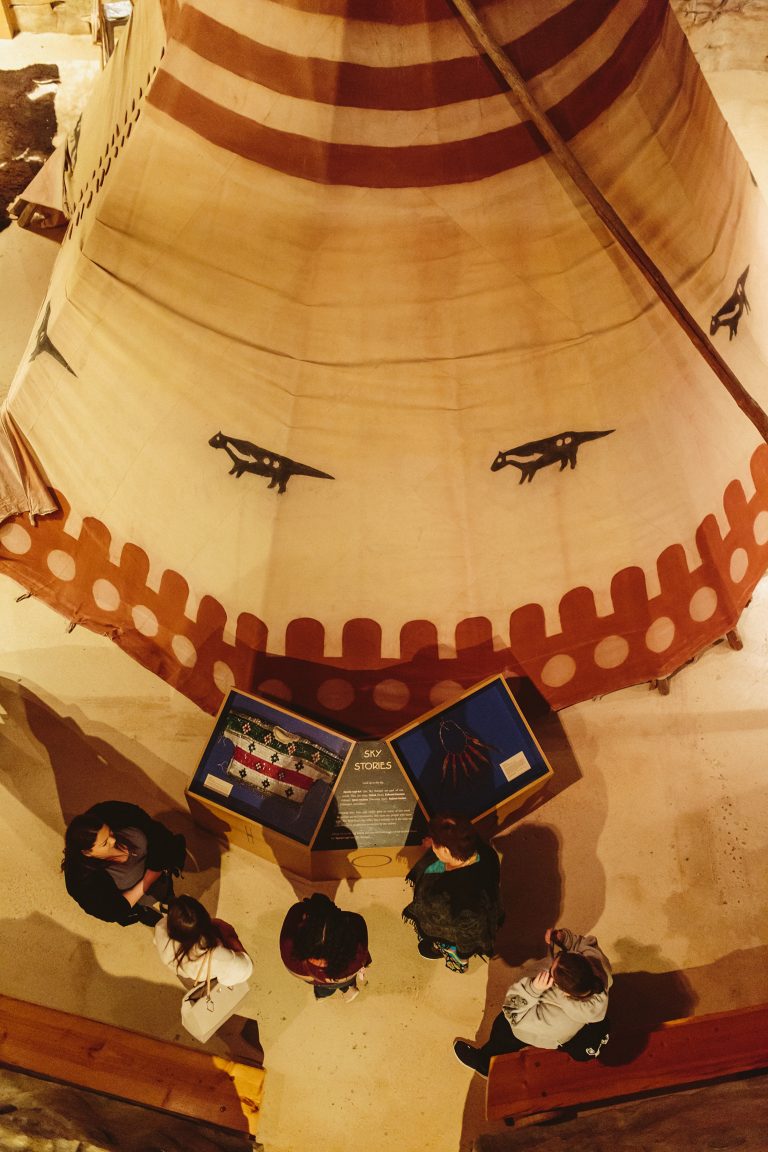 Glenbow Museum is beginning major building renovations, which means the Niitsitapiisini: Our Way of Life exhibition is closing after 19 years.
When renovations are complete, new gallery spaces will be dedicated to sharing Blackfoot Niitsitapi culture and history, developed in collaboration with the Blackfoot Niitsitapi community to ensure your stories are represented authentically and consistently.
The Niisitapiisini Gallery will remain open for Blackfoot Niitsitapi community members to schedule visits until May 31, 2021
Indigenous collections items will remain accessible to the community and protected during the renovation project, which is expected to take until the end of 2023.
You can schedule your visit to Niitsitapiisini: Our Way of Life by contacting:
Joanne Schmidt at 403-268-4176 or jschmidt@glenbow.org or
Calista Burnett at 403-268-4179 or cburnett@glenbow.org
Niitsitapiisini: Our Way of Life was the result of a groundbreaking partnership between Glenbow Museum and the Blackfoot Confederacy. Nineteen Blackfoot elders worked with Glenbow staff to lead the design of the exhibition and infuse traditional knowledge and contemporary lived experiences into an innovative storytelling experience that shared the history and culture of the Blackfoot people.
The Niitsitapiisini Blackfoot Gallery Committee started work in 1997. After four years of discussion, research and collaboration, the gallery opened in November 2001. The project team included:
Doreen Blackweasel (Amsskaapipikani), Tom Blackweasel (Amsskaapipikani), Andy Black Water (Kainaiwa), Jenny Bruised Head (Kainaiwa), Clifford Crane Bear (Siksika), Louise Crop Eared Wolf (Kainaiwa), Charlie Crow Chief (Kainaiwa), Rosie Day Rider (Kainaiwa), Carrie First Rider (Kainaiwa), Earl Old Person (Amsskaapipikani), Allan Pard (Apatohsipikani), Jerry Potts (Apatohsipikani), Pat Provost (Apatohsipikani), Pete Standing Alone (Kainaiwa) Jim Swag (Apatohsipikani), Donna Weaselchild (Siksika) Frank Weasel Head (Kainaiwa), Clarence Wolfleg (Siksika) and Herman Yellow Old Woman (Siksika).
Glenbow will undertake community consultations to inform future programming and determine exhibition and collection priorities for the museum. Glenbow's mandate is to ensure the Indigenous collection continues to be cared for responsibly and respectfully while Indigenous perspectives and stories are shared with the public.
Acknowledging the Land on which Glenbow Sits
Glenbow is located on Treaty 7 territory and respects the history, languages, traditions and cultures of the nations on whose traditional land we reside: the Blackfoot Confederacy, which includes Siksika, Piikani and Kainaiwa; the Tsuut'ina; the Stoney Nakoda First Nations, including the Chiniki, Wesley and Bearspaw bands; and the Métis Nation Region III. Their contributions to the museum and continued support are integral to our success in educating our visitors and sharing the rich heritage of this land. We further acknowledge the vital connections we have to other indigenous people (including other First Nations, Inuit and Métis), whose visual and intangible culture is represented in our collections and exhibitions.