At Glenbow, we are committed to being approachable, inclusive and authentic. We know that memorable encounters with art, culture and history can change lives and inspire amazing things. That's why our leadership, board members and employees work diligently to provide art experiences that invite new perspectives, spark creativity and move our community forward.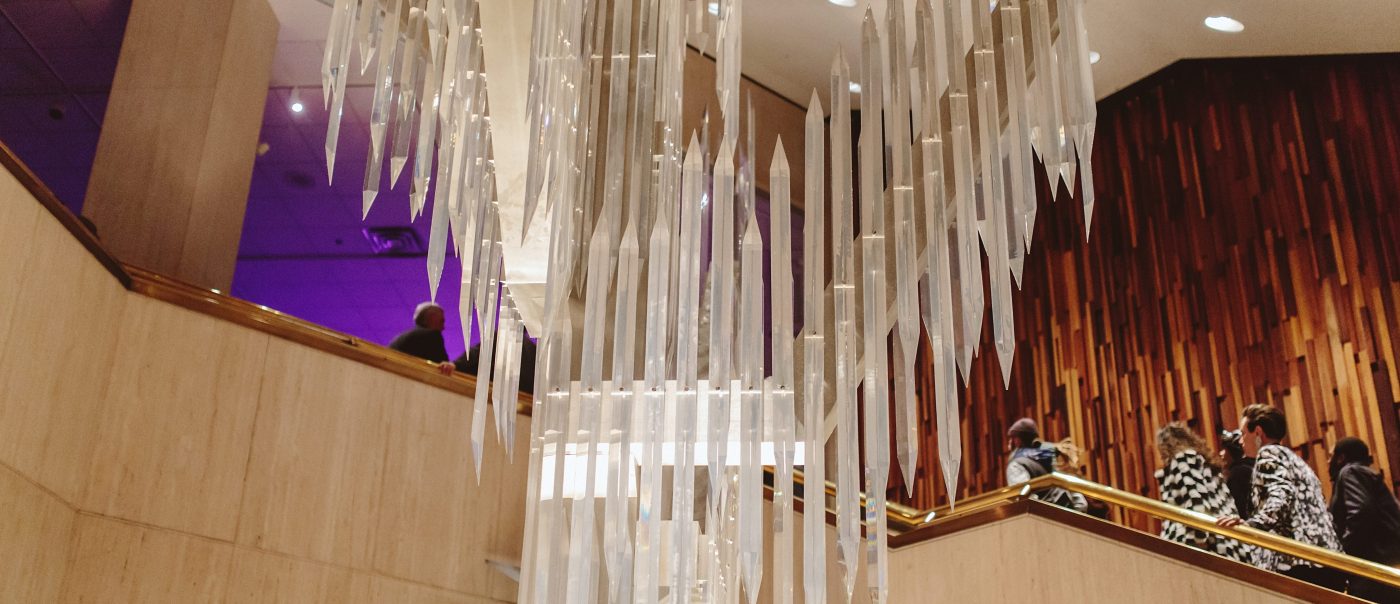 Senior Leadership Team
Led by President & CEO Nicholas R. Bell, our leadership team is committed to the success of the museum, its employees and volunteers, and the Calgary community as a whole. 
Nicholas R. Bell
President & CEO
Originally from Vancouver, Mr. Bell joined Glenbow in 2019 from his position as Senior Vice President for Curatorial Affairs at Mystic Seaport Museum in Mystic, Connecticut. Nicholas launched a formidable exhibitions program during his three years at the preeminent American maritime museum. He previously served as The Fleur and Charles Bresler Curator-in-Charge of the Smithsonian American Art Museum's Renwick Gallery in Washington, DC, where he led the Renwick's relaunch, increasing attendance from 150,000 annually to one million. Mr. Bell is also an author and editor of ten books on art, museums, and contemporary culture and offers a proven background in spearheading change and successfully implementing strategic initiatives.
Melanie Kjorlien
VP Engagement & COO
Melanie Kjorlien has held several positions at Glenbow over the last 12 years, including Director of Knowledge Management, VP of Access, Collections and Exhibitions and now COO and VP, Engagement. Throughout her career, Melanie has been motivated by her genuine passion for art and culture and the value they bring to our communities. Melanie's background has encompassed journalism and media, website and digital project management, curating and teaching. Melanie is an award-winning writer and editor and has edited several publications on various aspects of Canadian art history.
Glenn McMurray, CPA, CA
VP Corporate & CFO
Glenn McMurray is a chartered professional accountant with extensive experience as a senior leader in the not-for-profit sector. A native Calgarian, Glenn is currently the Vice President Corporate and Chief Financial Officer at Glenbow. Prior to joining Glenbow, Glenn was the Executive Director, Research Services at the University of Calgary and the Chief Operating and Financial Officer of the Calgary Health Trust. He has also served as a board member for several not-for-profit organizations.
Kim Kadatz
VP Advancement
Kim Kadatz joined Glenbow in 2020 after holding several key fundraising and leadership roles at the University of Calgary, most recently serving as Associate Vice President, Development, where she led a team of 50 and was responsible for raising $50-60M annually for the institution. In her 15 years with the University, Kadatz served in a number of lead development positions in the Faculty of Kinesiology, Principal Gifts, the Schulich School of Engineering and the Haskayne School of Business. She has also held positions with Mount Royal College Foundation and the United Way of Calgary and Area. Ms. Kadatz is currently a board member with Two Wheel View, an organization that builds resiliency through youth cycling programs. A lifelong Calgarian, she is committed to raising resources that enhance the community and accelerate Calgary's development as a leading city.
Board of Governors 2020-2021
The Glenbow-Alberta Institute, operating as the Glenbow Museum, is governed by a Board of Governors. The Board is comprised of a minimum of 12 governors to a maximum of 24 members, eight of whom are appointed by the Board, two by the Devonian Foundation, and the remaining 13 elected by the members of the Institute. The President and CEO automatically becomes a Governor upon his/her appointment.
Irfhan Rawji
Chair
Irfhan Rawji joined Glenbow's Board in 2014 and is Chair of the Board. Mr. Rawji is a Principal with Totem Capital Corporation, a private capital firm focused on investing in Canadian small businesses, and is a Venture Partner with Relay Ventures, an early stage venture capital firm exclusively focused on mobile computing with offices in Toronto and Menlo Park. Irfhan is also Adjunct Professor at the Sauder School of Business at the University of British Columbia where he has taught in the areas of finance, public policy, strategy and leadership. Irfhan is actively involved in civic affairs as a Board Member of the Institute for Canadian Citizenship, and as a member of the Harvard Business School Global Alumni Board. Previously, Irfhan served on the boards of the Heart & Stroke Foundation of Canada (Board Chair), the Harbourfront Centre (Director, Treasurer), imagiNation150 (Director, Treasurer) and Business for the Arts (Director).
Lori Van Rooijen
Vice-Chair and Chair, Project Oversight Committee
Lori Van Rooijen joined Glenbow's Board in 2015 and currently serves as Vice Chair of the Board. Lori also serves as Chair of the Project Oversight Committee. Lori is President of Larkspur Consulting Inc. (LCI). She is a strategic planner, facilitator, public/stakeholder engagement specialist and Capital Project Manager with over 25 years of experience. Lori has been project director on some of Calgary's largest public projects. She has developed business cases and/or garnered public and political support for numerous public projects resulting in new funding including the University of Calgary's Taylor Family Digital Library and West Campus development, the Lois Hole Digital Library, the Calgary Science Centre – TELUS Spark, and the Jubilee Auditoria recapitalization project. Her recent projects include the YW Calgary new Hub Facility, Vecova Centre for Disability Services and Research, Red Crow Community College, CARYA Community Hub and the Sunalta Community Hub.
Jim McLeod
Past Chair
Jim McLeod joined Glenbow's Board in 2015 and is past Chair of the Board. Jim is a native Calgarian and a fourth generation Albertan. Jim worked in the petroleum sector for 30 years, recently retiring from Nexen Energy ULC where he held various technical and management assignments in Calgary and Yemen. He is Past President of Calgary's Ranchmen's Club; Member of the Board of Vertigo Theatre; past Member of the Board of the Leighton Art Centre; and, past Member of the Board of Theatre Calgary. Jim is an avid collector of western Canadian antiques and folk art and Canadian art.
John Q. Adams
Governor
John Q. Adams joined Glenbow's Board in 2019. Mr. Adams leads Fiera Capital's business development initiatives in Calgary. Mr. Adams has almost 30 years of experience in the financial services industry, holding senior roles at Royal Trust, Royal Bank, TE Financial, Scotia Bank and Bridgewater Bank. His areas of expertise are strategic planning, business development, marketing, sales and wealth management. He is also a member of the Board of Valour Canada.
Chris Chan
Governor
Chris Chan joined the Board in 2017, and currently serves as Chair, Development Committee. He was born in Calgary and has deep roots in Calgary and Southern Alberta, both through his parents and through his family's business Smitty's Family Restaurants founded in 1960 by his grandfather Walter Chan. Chris began his career with Smitty's more than 30 years ago and has held every restaurant and senior management position. He now serves as President of W. Chan Investments Ltd. managing a retail and real estate portfolio.
Paul Desmarais III
Governor
Paul Desmarais joined Glenbow's Board in 2019. He is the Chairman and CEO of Sagard Holdings, the Executive Chairman and co-founder of Portag3 Ventures, and the Chairman and co-founder of Diagram. Within the investment portfolios of Portag3 Ventures and Sagard Holdings, he is the Chairman of Wealthsimple and Peak Achievement Athletics and a director of Koho, Integrate AI, and IntegraMed. Paul is also a Senior Vice President of Power Corporation of Canada and Power Financial of Canada. As a part of his responsibilities at the holdings, he sits on the boards of Great West Lifeco, IGM Financial, Pargesa, Groupe Bruxelles Lambert, and Imerys.
Ken Fetherstonhaugh
Chair, Audit/Investment Committee
Ken Fetherstonhaugh joined Glenbow's Board in 2015 and currently serves as Chair, Audit/Investment Committee. Ken brings 20 years of experience with a proven record of accomplishment in leadership roles in financial services, all concentrated on Alberta and the Prairie provinces. As Senior Vice President, BMO Private Banking, Prairies, Ken is responsible for wealth management services delivery across three provinces (Alberta, Saskatchewan and Manitoba) leading a team of over 100 professionals to deliver investment counsel, trust and banking services to high net worth individuals and families. Ken has been with BMO for 10 years, beginning as a Director and advancing to the role of Managing Director, Credit Structuring with Corporate Finance Division, and most recently was Head, Commercial Credit – Western Canada.
Ryan R. Green
Governor
Ryan Green joined the Board in 2020 and currently serves as a Member on the Collections and Access Committee.  Ryan is the president and owner of Masters Gallery Ltd. He has over 20 years of experience as a dealer of Canadian historical, post war and contemporary art with a specialty in Group of Seven and mid-century Quebec Abstraction. He received an MA in the History of Art from the University College London, England specializing in late 15th century Florentine Sculpture and a BA in Art History with honours from the University of Calgary. In addition to creating and teaching the curriculum for its inaugural course on Canadian Art History and Appreciation, he has instructed and lectured on European art and art history for the University of Calgary's continuing education department. In 2009 he presented 'On Verrocchio's Doubting Thomas and the Five Senses' at University College London and the Courtauld Institute, London England. For the past five years he has been invited to speak at the Rotary Club Fundraiser, Tom Jackson's Stay in School program presented by Art Talks.  He is the founder of Young Masters, a collaborative initiative with Masters Gallery and the Calgary Public School Board to introduce elementary school students to Canadian art, artists and art appreciation.
Ryan is a Canadian friend of the Dulwich Picture Gallery, London, England, an Honorary Associate member of the Alberta Society of Artists and a distinguished patron of the National Gallery of Canada, Ottawa.
Martha Hall Findlay
Governor
Martha Hall Findlay joined Glenbow's Board in 2019 and currently serves as a Member of the Project Oversight Committee (adhoc). As a corporate lawyer, senior business executive and successful entrepreneur, Martha brings more than 25 years of domestic and international experience with major multinationals as well as start-ups, primarily in telecommunications and technology. She is President and CEO of the Canada West Foundation, a member of the Minister of International Trade's Trade Expert Advisory Council and serves as the Chair of the Board of Directors of Alpine Canada. From 2008 to 2011, Martha was a Member of Parliament, serving in several capacities in the Shadow Cabinet, and as a member of the House of Commons Standing Committees for Finance; Transport, Infrastructure and Communities; Government Operations; and International Trade.
Tim Hamilton
Governor
Tim Hamilton joined Glenbow's Board in 2015 and currently serves as a member of the Development Committee. Tim is a Partner with Boyden Calgary and is entering his 26th year of executive search. Tim's practice involves private sector as well as public sector senior executive searches with a focus on C-suite and board assignments. Prior to joining Boyden, he was a Founding Partner of Hamilton Hall Soles / Odgers Berndtson. Previously, Tim was a Managing Partner of the Caldwell Partners for Western Canada and, prior to that, he was Senior Vice President for Ketchum Canada. Early in his career he served as Special Assistant to the Minister of Employment and Immigration and to the Minister of Environment in the Government of Canada.
Paul Hardy
Chair, Collections & Access Committee
Paul Hardy joined Glenbow's Board in 2018 and currently serves as Chair, Collections & Access Committee. Mr. Hardy is an internationally acclaimed fashion and Interior designer. In 2015, as Glenbow's artist-in-residence, he created the groundbreaking year-long exhibition Kaleidoscopic Animalia which launched new possibilities for Glenbow as an art museum. Paul began his design career in 2002 and in 2006 was listed by Elle Canada as one of the top 10 designers in Canada. His celebrity client list has included Bette Midler, Carrie Fisher, Keisha Chante, Kate Hudson, and country singer Paul Brandt. Past work has included designing the costumes for Sarah Mclachlan's Fumbling Towards Ecstasy with Alberta Ballet, a role as creative director of the Calgary Stampede merchandise department and designing a commemorative white hat for the 100th anniversary of the Stampede.
Kathryn Heath
Chair, Governance Committee
Kathryn Heath joined Glenbow's Board in 2015 as a Community Representative on the Board Development Committee. She currently chairs the Governance Committee. Kathryn has broad experience with large, international for-profit boards and not-for profit boards and organizations. She is a retired corporate lawyer with 30 years of counsel and executive experience in domestic and international companies in the private and public sectors, most recently as Associate General Counsel, Agrium Inc. Her corporate responsibilities included mergers and acquisitions, corporate governance, compliance and best practices, and dispute resolution. Kathryn also serves on the board of Theatre Calgary and is a member of the Committee of Management of The Ranchmen's Club (Vice-Chair, Heritage and Art Committee).
Todd Hirsch
Governor
Todd Hirsch joined Glenbow's Board in 2018 and currently serves as a member of the Audit/Investment Committee. He is the Chief Economist of ATB Financial. For over 20 years, Todd has worked as an economist at numerous organizations including the Canadian Pacific Railway, the Canada West Foundation and the Bank of Canada. For almost a decade, Todd taught economics at the University of Calgary. He is the author of three books and frequently provides economic commentary for many Canadian media outlets.
John Larsen
Governor
John Larsen joined Glenbow's Board in 2012 and currently serves as a member of the Project Oversight Committee. John is General Manager (Calgary) and Executive Vice President (Crisis & Reputation Risk) with Edelman Canada. He previously owned Corpen Group, and has served in senior and executive roles in international consulting and with various orders of government. He started his formal career as a naval operations officer and remains in the military as current head of the Forces' Public Affairs Branch Primary Reserve. John has taught at four Canadian colleges and universities.
Zai Mamdani
Governor
Zai Mamdani joined Glenbow's Board in 2019. Zai is active in both the corporate and non-profit sectors. She provides leadership and guidance at Strategic Group, the company she co-founded, in support of the organization's vision for community partnerships and corporate sponsorships. She is also a current Board Member with The Institute for Canadian Citizenship, Propellus, the Aga Khan Ismaili Council for the Prairies, and is an active and valuable contributor to other non-profit organizations, including the Calgary Opera, the University of Calgary President's Campaign Advisory Group, the Dean's Advisory Group in the Faculty of Arts at the University of Calgary, and the Alberta Children's Hospital Foundation.
Ross Middleton
Governor
Ross Middleton joined Glenbow's Board in 2018 and currently serves as a member of the Audit/Investment Committee. As the lead of BCG's Calgary office and BCG Canada's Energy Practice, Ross acts as a senior advisor to executive teams in the oil & gas, mining, and utilities sectors on their strategic agenda. Ross is presently a Board Member of Tourism Calgary and of Beakerhead – an organization devoted to nurturing a passion for science. Ross is also a member of a CEO Roundtable refreshing Calgary's economic strategy in partnership with Calgary Economic Development.
Kent Monkman
Governor
Kent Monkman joined Glenbow's Board in 2018 and currently serves as a member of the Collections & Access Committee. Kent is an interdisciplinary Cree artist who is well known for his provocative reinterpretations of romantic North American landscapes. He has created memorable site-specific performances and installations at the McMichael Canadian Art Collection, The Royal Ontario Museum, the Smithsonian's National Museum of the American Indian, Compton Verney, the Denver Art Museum and most recently at the Metropolitan Museum in New York. His award-winning short film and video works have screened at various national and international festivals, and his second national touring solo exhibition, Shame and Prejudice: A Story of Resilience will visit museums across Canada until 2020.
Stephanie Pankratz
Governor
Stephanie Pankratz joined Glenbow's Board in 2016 and currently serves as a member of the Audit/Investment Committee. Stephanie is a Partner with the Audit practice of KPMG Calgary, where she has worked for the past twelve years. During her career at KPMG, Stephanie has focused on providing audit and audit-related services to public clients across a wide variety of industries including oil and gas, power and agriculture. Stephanie is a Chartered Professional Accountant and received a Masters of Professional Accounting from the University of Saskatchewan and a Bachelor of Commerce from the University of Calgary. Stephanie is a Vice Chair of the United Way Women's Leadership Council and served on the public practice working group for the Institute of Chartered Accountants of Alberta from 2014-2016.
Patricia Phillips
Chair, Development Committee
Patricia Phillips Joined Glenbow's Board in 2019. As CEO of PBA Land & Development, she leads the overall management and growth, including the company's strategic direction and business development as well as asset and property management. Prior to joining PBA, Ms. Phillips founded and was CEO of three successful private oil and gas companies engaged in the exploration and development of oil and natural gas in the Western Canadian Sedimentary. She worked on Wall Street as a Financial Analyst for First Boston, managing the energy and sovereign sectors while working directly with corporate finance, capital markets, and merger and acquisitions. She also served as an economist on developing trade policies for the Tokyo round of the General Agreement on Tariffs and Trade (GATT) in Geneva.
Su Ying Strang
Governor
Su Ying Strang joined Glenbow's Board in 2018 and currently serves as a member of the Governance Committee. Ms. Strang is an artist, arts advocate, and cultural worker. She is currently the Director of The New Gallery (TNG) and the President of the Alberta Association of Artist-Run Centres. Her work in the arts is informed by an artist-centred and programming-led vision – prioritizing artistic excellence, risk-taking and experimentation, and most importantly, supporting and trusting artists in their work.
Over the course of Strang's tenure at TNG, she has overseen the organization's relocation; increased accessibility by implementing the translation of exhibition materials and public programs; encouraged sustainable and diversified revenue streams, including establishing a new endowment fund and gaining substantial increases to operating funding from all three levels of government; and has continually advocated for a broader engagement with artist-run culture and contemporary art. Strang's most recent projects include securing a long-term lease and funding for an expansion into the suite above TNG's Main Space, as well as a major renovation to both levels, which was completed in 2019.
John R. Whelan
Governor
John R. Whelan joined Glenbow's Board of Governors in 2020 and serves as a Member on the Development Committee.  Mr. Whelan is currently the Senior Vice President, Imperial Oil and leads Imperial's Upstream oil and gas organization. Mr. Whelan started his career with Mobil Oil Canada in 1988 as a subsurface engineer in Drayton Valley, Alberta. He has held a variety of international roles in Norway and the US, related to the development of major offshore oil and gas projects, as well as global planning, business analysis and technical operations management. John currently serves on the Boards of a number of corporations and volunteers with the Rocky Mountain Little League and Glenlake Minor Hockey Association.
Glenbow Ambassadors
Glenbow Ambassadors assist with the business associated with a Board committee and are invited to sit on the committee by the committee Chair.
Mark Mullin
Collections & Access Committee
Holly Wennerstrom
Development Committee
Darcy White
Collections & Access Committee
Standards and Ethics
The Board of Governors is committed to the highest standards of business and personal ethics in the conduct its duties and responsibilities. The Board will foster an environment where all Directors, officers, employees and volunteers of Glenbow can report violations or questionable conduct, which is suspected to be unethical, dishonest or fraudulent without retribution if the report is made honestly and in good faith.
Glenbow's Whistleblower Policy states that Glenbow employees and volunteers can anonymously forward concerns/complaints to a confidential email address received by the Chair of the Audit Committee. The procedures outlined in the Whistleblower Policy document are intended to ensure that any such complaints and concerns are promptly and effectively addressed.