Tia Halliday will be hosting a Salon Series at Glenbow on
August 8 – an intimate and sure-to-be illuminating experience that will delve
into the fascinating practice of one of Calgary's most dynamic artists. Tickets
are very limited – click
here for more information or to purchase.
The Calgary-based artist's "Performance Paintings" are the
first thing you see when you walk into Glenbow's Second Skin
exhibition, and they could be described as the literal embodiment of the
exhibition's title.
The pieces on the wall are the culmination of a process that is rooted in the formal traditions of abstract painting, but does not actually involve paint. Halliday, currently a tenure-track Instructor of visual art and theory at the University of Calgary, discussed her process with Glenbow News, elaborating on how she came to really put herself into her work.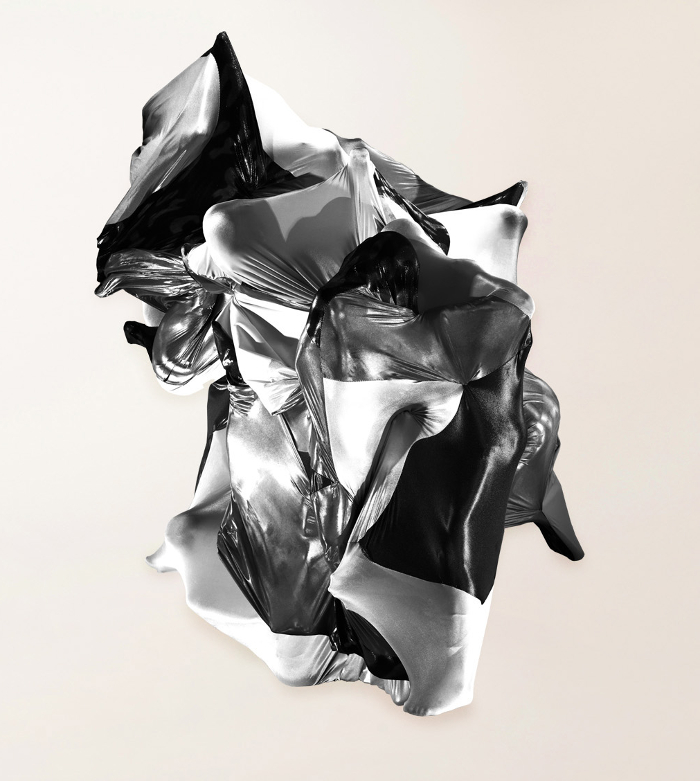 Your work in Second Skin includes video, photography and large scale, almost sculptural aluminum wall pieces. Could you explain what the elements of a Performance Painting are?
My aluminum pieces could be considered the end point thus far of a process that I call Performance Paintings. What this entails is that both myself and invited guest performers will engage in a performance under these fabric garments that I've constructed, and then I'll take high quality photographs of this performance. Then, afterwards, I'll use these photographs to generate digital composites that I reassemble and have printed onto aluminum and then laser cut. That's the simple, nuts and bolts process of it.
You put yourself into your work, literally inhabiting it. How did you arrive at this idea?
I've been teaching drawing and painting at the post-secondary level for about ten years now, and it was through teaching that I kind of arrived at this idea. There's a quintessential language that emerges through the history of modernism, particularly American Modernist painting. Anyone who has taken a painting class may have heard words like "push" and "pull" to describe the experience of looking at an abstract painting. We use terms like "rhythm" and "movement" to talk about abstract painting, and I was using these terms when I was teaching, and it dawned on me at one point that this was choreographic language. These are cues for movement – physical movement, not just pictorial, visual movement. I thought, 'why don't I perform painting under a painting's own skin,' if that makes sense. I set aside my brushes for a little while, and I thought 'why don't I create the skin of a painting using fabric and then perform "painting" underneath of it. I got to my sewing machine and created these geometric abstractions. There were little things I would do: I would purposefully sew a very taut fabric beside a stretchy fabric, for example, so that when you're performing underneath and inside of it, you push yourself up against the heavier fabric and then pull or press your hand against the stretchy fabric. I also inserted almost a harness and a pulley system underneath these fabric garments that could sort of physically engage in the language of abstraction.
You've talked about how through your work you physically perform and choreograph common painterly tropes such as edge, flatness, depth and rhythm. You grew up around art – I was wondering if being immersed in that world at an early age led to a fascination with the how artworks are constructed?
Definitely my dad plays into it – he arrived at the Constellation series, which is the body of work that I think was his pinnacle work. What's interesting to me is that work is very performative. [Note: Tia Halliday is the daughter of the late artist, Richard Halliday.] I mean, the idea of taking that oil stick… it's these black canvases with these white oil sticks… The largest one he created was 17 feet long. He never called that a performance work – the creation of those works – but they were almost like Pollock. He had athletic injuries from creating those paintings, that's how physically vigorous they were. So I think in way, without even realizing it, performing painting has just been in my family…
Motion…
Exactly, the physical painting being the artifact of an event – a performance. That's not something I realized when creating the work, but then of course, when engaging in the important reflective practice that a contemporary artist must do, I can see that relationship.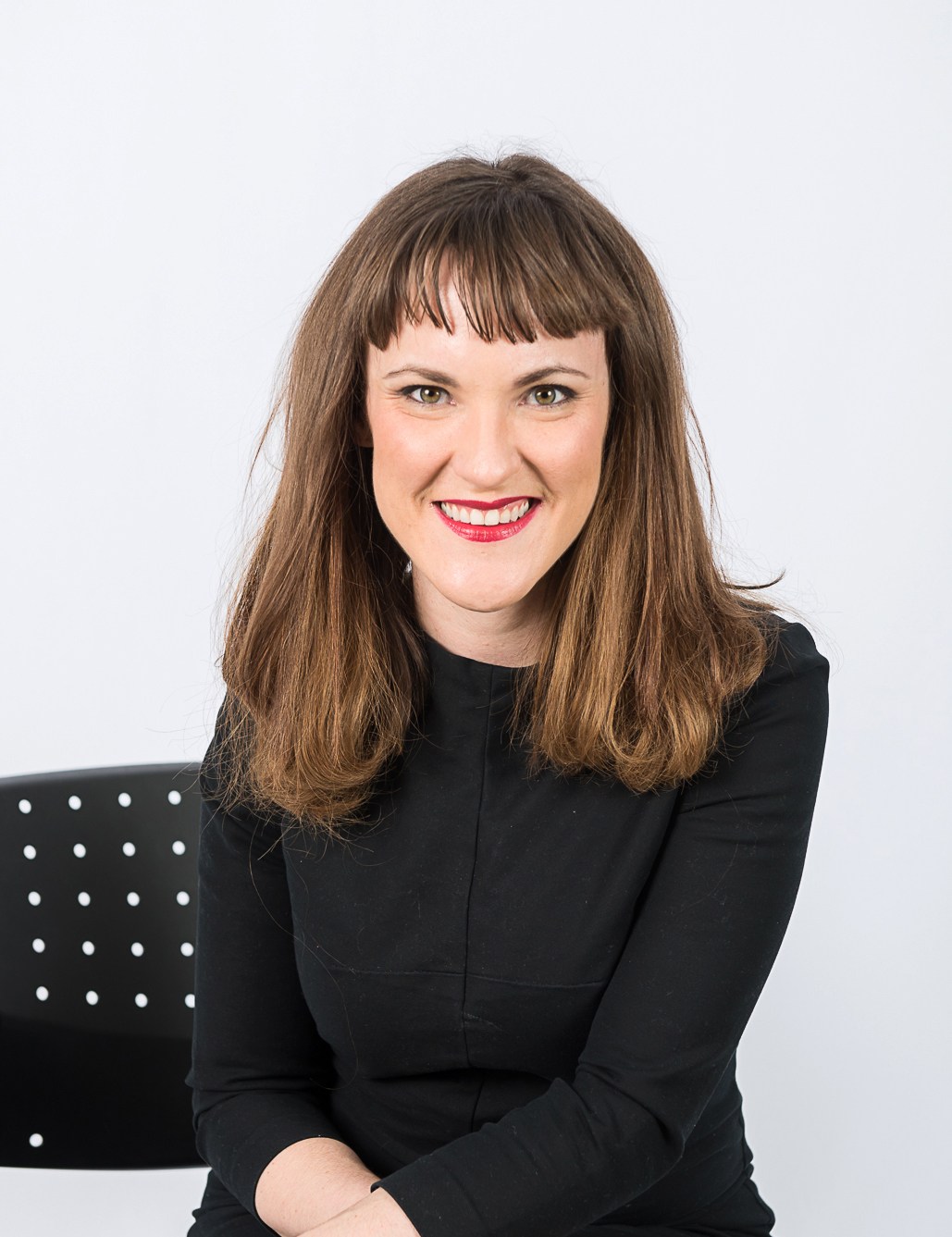 You've described "performed paintings" as an analysis of the body's relationship to painting and sculpture. What insights has your practice yielded about this relationship?
During the time when this work was really getting going, I was reading a fabulous text by Sarah Ahmed called Queer Phenomenology, and she talks about this idea of "queerness" and "queering" as the idea of orientation, and not necessarily just sexual orientation but thinking about where and how are we oriented, and how do we "queer" this notion. So, for me, I was thinking about painting. How do we think about painting? Well, you've got a canvas and you're going to paint on it, so for me it was queering that orientation of the artist's relationship to the painting and actually creating a painting from underneath of it. So, there's kind of that analysis part, but that's a great question because it really connects me to my next project that I'm thinking about. What interests me is the movement and the dialogue, the conversation that happens among the performers behind the skin of the painting. For example, when both myself and other dancers are beneath the fabric, it's a very complex process of both verbal communication and non-verbal communication. Can I put my leg here? Can I stick my hand out here? Are you supported? Can I put my weight on you? A dialogue occurs and that's something I'm hoping to look at a little bit more in future performance works. When we do the performance under the fabric, it looks pretty cool and it's mesmerising but what's also interesting is what's happening behind the scenes. I hope to forefront that a little bit in some of my future work.
Top: Tia Halliday, circus II, 2017, Courtesy of the Artist; Sideshow III, 2017, Courtesy of the Artist; Surface, 2016, Courtesy of Herringer Kiss Gallery