Graeme Patterson is a Saskatchewan-born, New Brunswick-based artist whose practice focuses on stop motion animation and multimedia sculptural installations. While travelling around Canada in 2008, Patterson started work on The Puppet Collective (Edition I) – a series of puppets based on 50 random people. Driven by an interest in people watching and figurative sculpture, Patterson created these works based on memories of people he encountered in everyday life.
Glenbow acquired the three puppets pictured at the top of this page in 2009. Last year we were grateful to receive an additional two puppets: one from the first edition and another from the subsequent second edition, Puppet Collective II. The donor of these two pieces, Judy Ciccaglione, also served as the real-life inspiration for the more recent puppet, Ubiquitous Gallery Assistant.
Ciccaglione, who works at Trepanier Baer Gallery, tells us she met Patterson when he exhibited the first edition of the Puppet Collective there in 2009.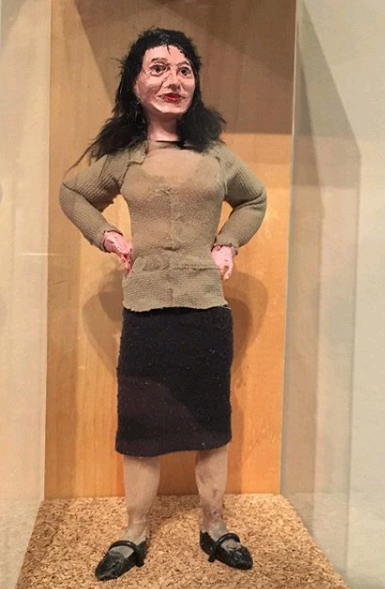 "Part of the idea of the exhibition was that you buy a puppet and then by buying one you could serve as the model for the next edition," she says. "He wanted to do more but he needed more models, so this way it got people interested in the exhibition and the puppets. So I bought one and then served as a model for the second edition."
As for having her puppet effigy take a permanent place in Glenbow's ever-expanding art collection, Ciccaglione says she's thrilled.
"I've now joined the Patterson gang at Glenbow. I live there now. I'm immortal," she laughs.
You can see all five puppets in the exhibition Recent Acquisitions, but don't wait too long to check them out — the show closes on May 26.
In addition to these works, Patterson's funny and poignant short animated film, Monkey and Deer, is in our collection.
Credits: Graeme Patterson, Church lady from the puppet Collective (Edition I), 2008, mixed media, 5/52; Man in Striped Shirt and Jeans From the Puppet collective (Edition I), 2008, mixed media, 42/52; Rockabilly boy from the Puppet Collective (Edition I), 2008, mixed media, 44/52, Ubiquitous Gallery Assistant (Edition II), 2009, Mixed Media, Collection of Glenbow; Graeme Patterson, Monkey and Deer, 2006, stop-motion animation, Collection of Glenbow