By Zoltan Varadi
For over 26 years now, there has existed a small but significant portal on the prairie into the heart of West Africa. Where Symbols Meet: A Celebration of West African Achievement, which opened at Glenbow in 1994, offers a window to the art and stories of five major cultural groups from over a dozen West African countries.
The exhibition was made possible through the contributions of African-Canadian community consultants, including, among many others, Tunde Dawodu, who provided interpretations of material representing Yoruba, an ethnic group of approximately 44 million people, largely in Nigeria and Benin.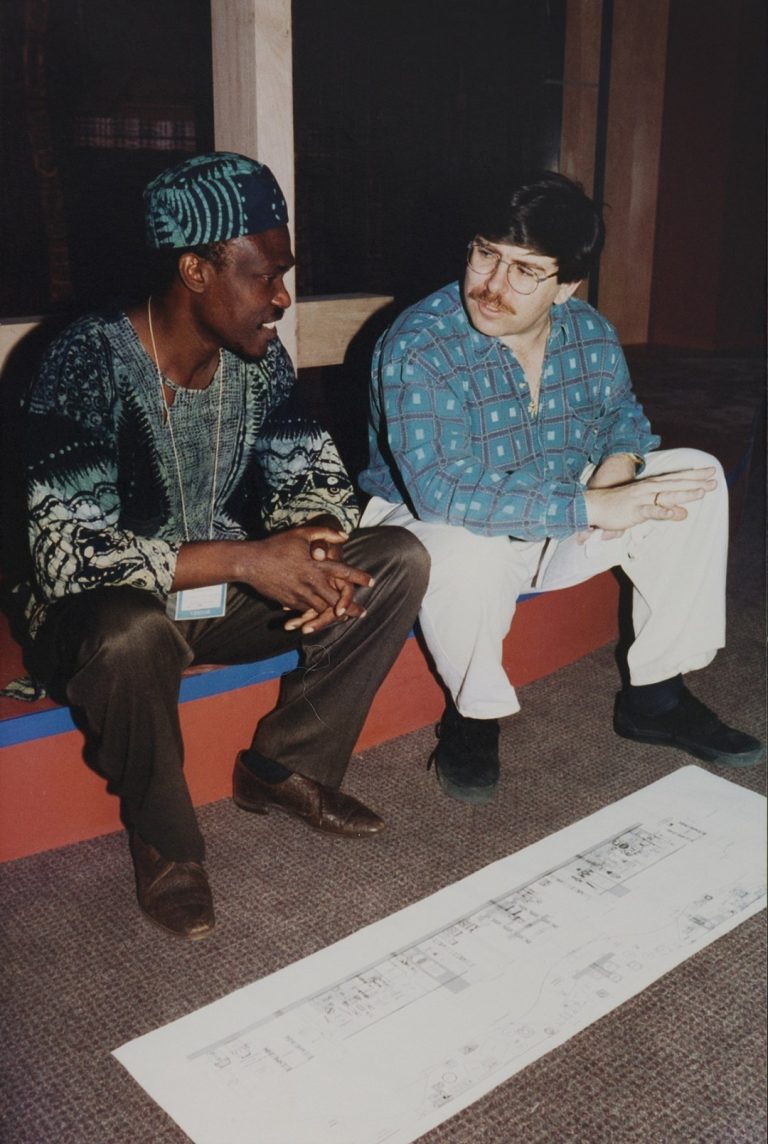 Where Symbols Meet was just one of many projects Dawodu was involved with in the early 1990s, including launching a long running radio program on CJSW 90.9 FM, Oh Africa, and, perhaps most significantly, co-founding the Afrikadey! Art & Culture Society.
Dawodu says that that burst of activity was born of necessity – pre-1990, he recalls, representation of Calgary's African community was virtually non-existent in the city. Worse, what little conversation was had about Africa tended to skew towards the negative – namely talk of drought, famine and conflict.
"I said to myself one day, 'people don't tend to know much about Africa; all they know is what they've been told –  as an African in Calgary, what can I do to change that perception?" he says.  "So I decided to do something about it."
Dawodu's daughter, Motola Dawodu, who was 13 at the time of her father's involvement with the exhibition project at Glenbow, recalls it as an exceptionally inspired time in their household.
"I just remember, even at a young age, noticing that [my father] had a lot of big ideas – grandiose ideas," she says. ""But at the time there was no major talk about, 'how do you bridge the gap between communities: Canadians, Calgarians and Africans. There wasn't any type of showcase at that time."
Tunde, of course, played a significant role in building that bridge, be it through the storytelling of Where Symbols Meet or by bringing afrobeat superstar Fela Kuti to Calgary for the first time for the festival component of Afrikadey!
Motola credits Oh Africa as the launch pad from which Tunde was able to start a positive dialogue about African culture with the Calgary community at large. Her earliest recollections of the program also offer pertinent insight into her father's can-do attitude. She recalls how her father was frequently tuned into CJSW as they drove about city, the campus/community radio station being one of the only destinations on the FM dial where you could hear things like reggae, soul and R&B.
Then all of a sudden I remember, 'he's on the radio,'" she laughs. "As a kid, we didn't really know how that happened."
Today, Tunde has largely passed the reins of Afrikadey! to his daughter, explaining "fresh blood and fresh ideas" are vital to the ensuring that the organization continues to thrive and provide a voice within our community as it has done so for the past three decades.
"Before [Afrikadey!], I don't know what people knew about African culture in Calgary, but doing what we've been doing has exposed a lot of people to African culture, he says. "Ninety per cent of Afrikadey! audiences are non-Africans, and when you come there and feel a sense of belonging, a sense of energy… it brings people together."
For her part, Motola agrees it's necessary for all organizations involved in conversations about culture, be it grassroots community endeavours such as Afrikadey! or large institutions such as Glenbow, to keep reexamining and revitalizing their programs. The best way to do so, she offers, is through inclusivity and community-wide participation.
"I had an African film festival and one of the places I got really, really good support from was Making Treaty 7," she says. "They were reposting all the stuff that I was putting out regarding the festival, and it was just so nice to see because it's two visible groups that come from different areas, but that have a lot of the same experiences, coming together to share.
"Partnerships are so important. Partnerships bring you into the future. It's like when you have a millennial and maybe a baby boomer – the things you can teach each other.  When you don't have new perspectives you really can't go forward. I think that's something that people need to think about, and as an African organization, or just an organization that's been around for a long time, that is something [that's come up] in the last few years. What do we do now? How'd do we get there? How do we do it? Who do we partner with?"
These questions that Motola Dawodu poses on behalf of Afrikadey! are identical to those we here at Glenbow have been tasked with asking as we evolve as an institution. The answers for both organizations will surely come by engaging in conversations with each other and so many other others in this community. Which isn't to say we can't occasionally take a moment to look back and appreciate the steps we've made so far.
"Some of my grandchildren have been [to Where Symbols Meet] with their schools. Of course, I didn't tell them I was involved with the exhibition so when they got there and they saw my picture," says Tunde. "That's my grandfather!" They said to me "Oh papa I saw your picture." I like that, it gives me a sense of accomplishment."