By Zoltan Varadi
Glenbow News caught up with Nick Cave the day before his exhibition, Nick Cave: Feat, officially opened to the public. The 60-year-old Chicago based artist was in Calgary to install his exhibition and had just finished his last task of the day – placing 500 freshly-pressed hand towels into a tall and precarious stack, draped over a bronze cast of his own arm. The untitled piece is one of his most clearly political – it speaks to the position of servitude that African Americans have endured throughout history, with the carefully balanced stack referring to the towels found in fancy restrooms that are staffed by attendants.
Poetic and elegant, this sculpture is less colourful and exuberant than most of the other works in the exhibition, but it is emblematic of Cave's approach; he imbues often humble and unassuming objects with profound symbolism and messages on matters of race and identity.
An incredibly prolific visual artist, performer and educator, Cave possesses a kind of rare energy that keeps him always in action – despite an often grueling schedule. He is highly in demand around the world and is hands-on with every project. This month alone, in addition to his exhibition at Glenbow, he'll personally see to openings in Boston and Glasgow (for his first major solo exhibition in Europe). Undoubtedly, he'll be leading the production teams in those places much as he has at Glenbow, attending to the smallest details of each piece on display.
But, luckily for us, even Cave needs to take a break, however brief, so as Glenbow's technicians finesse the lighting in gallery, he suggests we relocated to a couch in the lobby to discuss his exhibition in Calgary – the first show dedicated solely to his work in Canada.
You're quite hands on with the installation process. Does the exhibition change from venue to venue?
Oh yeah, from venue to venue the exhibition is always changed. I think that's sort of the interesting thing about it. For me, it's important to go see the sites. I need to feel it – I need to feel where the work is going to be housed in order for me to understand the sort of law of the land. It then really allows me to think about the layout – how do I want the audience to move through the exhibition and what are the central focal points. These are the sort of things that are critical – what are the elements that draws one in and how do you set the tone?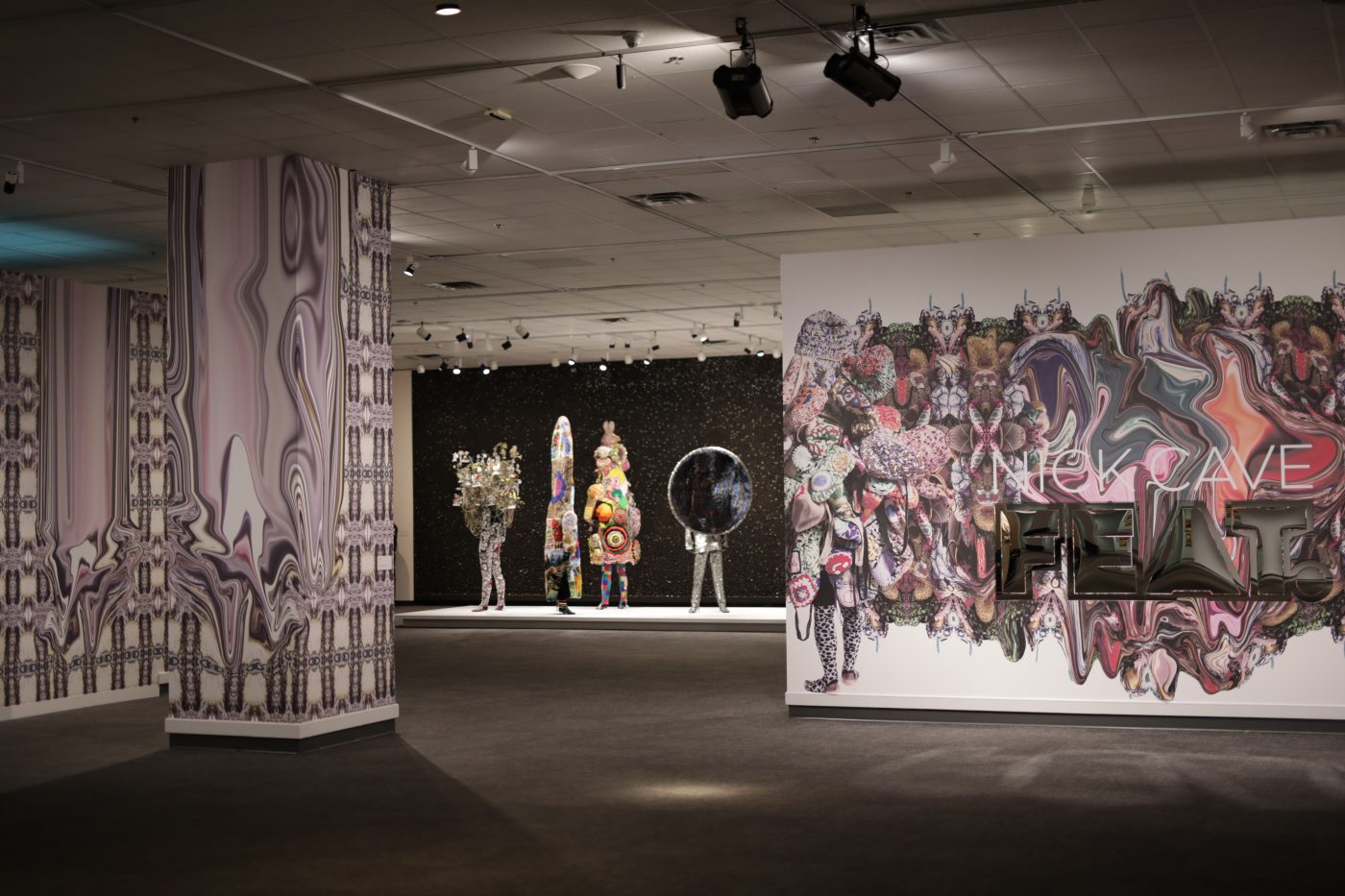 How do you feel about the set-up here?
The layout here looks fantastic. I think what's nice is that you get an amazing entry into the exhibition by support of these wall works which really provides a window in, and then you start to see the series of sculptures, which are the Soundsuits – but the rest of the work is not revealed. You don't know that as you move into the space that you're going to discover a Hustle Coat or a Tondo or the four-paneled wall relief… you're exposed to something that is drawing you in, but there's so much more that you're going to experience.
In addition to visual art, you have a background in dance and in fashion – the Soundsuits seem to be a perfect confluence of all of those things.
I think that dance and fashion is very much a part of the process. It's built into the work in many ways. Just to construct a Soundsuit is technically very skill based:  there's a lot that has to do with form and shape, there's a lot to do with material language application – the way things are built. There's a really physical, hands-on side, like when you think of couture and how things are built in that capacity, but then there's this other side of it – this notion where it's performative. I like [the Soundsuits] in this sort of static form – it forces you to imagine what it would be like if it was in motion.
For me, it's like when I was 19 and I went to the Museum of Natural History in New York, and I'm looking at all of these artifacts – things that are worn in ceremonial performances; I'm looking at all of this attire and fragments of garments, and I'm thinking, 'In reality, these have a purpose, yet I'm forced to look at them as an object.' So, that dual role was very interesting to me and I wanted to bring it into this work.
You've referred to the Soundsuits as a kind of armour. Could you elaborate?
With the Soundsuits, they [were a response to] the Rodney King incident in '92 which led to the L.A. riots. They conceal one's identity – they hide race, gender, class and force you to look at something without judgement. So for me, I was very interested in: how do you come to this work? How do you open yourself up to receive something that is a hybrid – it's figurative but it's not something we can necessarily identify with. So then how do you open yourself up to say, 'what are you?'
You've also spoken of the transformative nature of the Soundsuits – quite literally, they are all designed to be worn by you. What is the experience of wearing a Soundsuit like for you?
Well, I'm telling you it's not so easy. The most critical thing is the transformation – how do you sort of surrender to becoming something 'other.' It's really a process. When I'm working with a group of performers, I do not have any of them put on the Soundsuits right away. I will have you sit in front of it. I will have you touch it. I will have you pick it up and see what it feels like, weight-wise. Then we talk about, 'what type of motion do you think you will you bring to this object? What are you thinking? Let's talk through it.' Then I will allow you to put it on but remain still, which is the transition. Can you remain still and then be open to [the fact] that your identity is no longer revealed. What does this mean? What are you?
That can be a frightening question for people to ponder…
Well, some people get real sloppy and can be really messy, and so they have to settle in order to come into this sort of transformation. There may be limitations in terms of motion – what does that mean? How do you create volume? How do you stand and project and be bigger that the room? It's all these things that we learn through performance and dance and theatre.
A common element in all of the works is the use of found objects. What are the logistics of a gathering all that material? It must be a constant search.
Well, it is a constant search but it's always interesting. I'm either searching for what I call just the surplus of what we use regularly, but in that search is always the beginning of something new. A new body of work may come through discovering an object. The object is the instigator – it's what triggers how I approach my work. I find something and it's, like, life changing for me. For example, the bunny…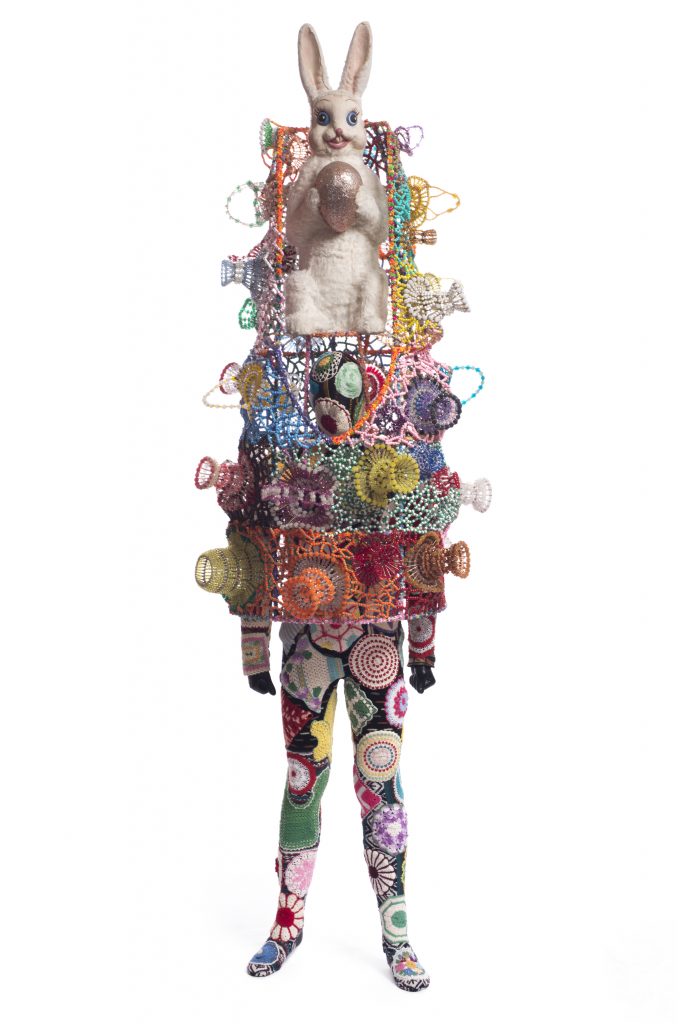 That's my favourite.
When I found the bunny, I was like, what? It was everything… I think it was from Stover's Chocolates and was used as a promotional piece, and I think I found [the same bunny] in like five different places. But… it was everything I dream about. It's sort of acknowledging the power in objects. I will take that object and locate its placement on the body, and then we start to build the work from that perspective. Why do you like the bunny?
It just grabbed me right away. I don't know if it's some sort of childhood thing… it just made me happy.
I think that there's a nostalgic moment in a lot of this work in terms of elements and things we can identify with in terms of childhood or things we've seen in the privacy of our parents' or grandparents' homes. So, I think there's this sense of comfort built in the work. But then, at the same time, it's a little frightening.
Let's talk about the Architectural Forest. That's a difficult one to describe. Walking around it, the effect is almost like a digital screen in analog.
That's exactly what I thought. A lot of my work is built from multiples – it takes a lot of one thing to make a piece. So that [Architectural Forest] is a continuation of that idea. I wanted to build this sort of structure that is made out of one element, which is bamboo that we printed on. That piece is really part of a performance piece… it's the object that sits within the performance and that we move in and out of, and it makes sound as you move through the bamboo.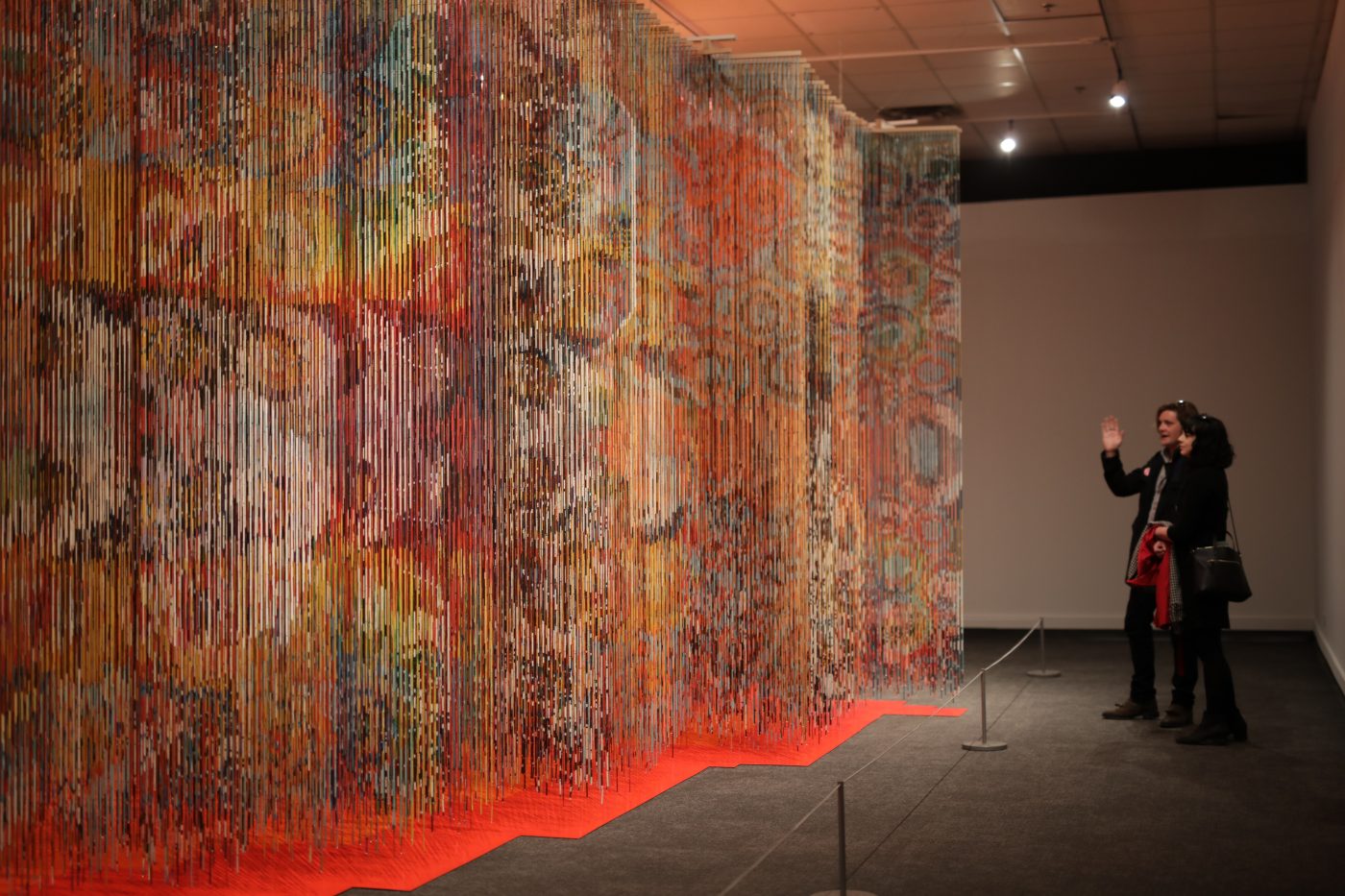 Sound is rather important to your work – it's a recurring theme.
Yeah, it seems to always somehow find its way into the work, [but] sound is not always something that is heard. It could just be the way something is arranged on a surface. Like the Button Wall, which becomes the backdrop for the Soundsuits – you feel like you can hear it even though it's very static. I think it's just the material and the way things flow and the how the light reflects off it.
Would it be fair to call this exhibition… not a full survey but a mini-survey of your work to date?
Yes: mini.
You do make a lot of work. How did you choose these particular pieces – what ties it all together?
What ties it all together is… the hand. The way things are fabricated. You can tell it's built by hand. You can tell that it's a maker who makes this work – it's this physical way of building and developing these amazing surfaces. It's also all about life and the circumstances that we struggle with, or that I'm struggling with daily based around race and violence. There's a social foundation that is really the fuel that forces me to do what I do.
There are some quite dark underpinnings to much of it, yet I'd guess that most people's initial reaction to seeing it would be joy.
For me it's optimism. In spite of all the darkness, you know, there's the other side. We live in a world where we have to somehow identify and establish balance. Although there are times and circumstances where it's very dark… For me, darkness means empowerment. What is my responsibility as a citizen to be proactive and to be of service and to make a difference?
Nick Cave: Feat is on at Glenbow until September 22, 2019
Upcoming Events related to Nick Cave: Feat.
Cocktails & Cave: July 18
Nick Cave: AS IS film screening: July 21 & Aug 11