UK-based Dr. Hana Leaper, curator of the Glenbow exhibition Sybil Andrews: Art & Life, shares a Canadian west coast connection with the subject of her curatorial and scholarly endeavours. In fact, it was while visiting family on Quadra Island in B.C. that Leaper first learned about this exhibition's titular artist. Sybil Andrews immigrated from her native England to Campbell River on Vancouver Island in 1947, and, while she may have flown under the radar of the art world at that time, she made a significant impact locally. When Leaper began visiting her great-great-uncle on Quadra many decades later, she found herself looking for ways to stay occupied on the tiny island. One of the things she did was arrange to visit a local artist, Richard Culver, a printmaker who had learned the art of linocuts from Sybil Andrews herself.
"During our visit, he started to tell me a lot about Sybil Andrews," recalls Leaper. "The things that she had taught him, how he felt that she was a really overlooked artist and how important her work was. So I sort of carried that around with me for a couple of years."
The seeds planted during that initial meeting with Culver eventually parlayed into a career heavily intertwined with all-things-Andrews; Leaper published two books on the artist in 2015: Sybil Andrews Linocuts: The Complete Catalogue and Sybil Andrews and the Grosvenor School Linocuts. Today, on the eve of the opening of Sybil Andrews: Art & Life, the most comprehensive survey of the artist to date, Leaper sat down with Glenbow News to discuss this remarkable and – until now – underrated figure.
[Join Dr. Leaper for In Conversation: Sybil Andrews: Art & Life on October 19 at 10am at Glenbow. Tickets available at the door]
Glenbow: Andrews found her artistic voice in the linocut, which was a new thing when she took it up in the 1920s. What do you think attracted her to that medium?
Leaper: Well it wasn't just the linocuts. That's one of the things that this exhibition demonstrates, that there's a whole breadth to her work. She was a fantastic printmaker in other media – there are some etchings in there that are mind-blowing in detail. But, essentially with the linocut, it really suited her philosophy of art. She wanted to get to the essence of a picture, and the linocut really forces the maker to simplify – you just can't put all that detail in. So, it really suited the direction she wanted her art to go in and it just came at a really crucial moment in her career. She started to learn to linocut in 1926, after she had been educating herself for around 10 years and exploring all these other media. She had written this manifesto and it basically said, 'we are looking for ways to portray this age – not the art of the past – and if the present age is ugly then maybe its art needs to be a bit different. Not pretty little pictures, but something cutting and dynamic.'
Movements such as Futurism, Vorticism and Cubism are often mentioned in the same breath as Andrews. Sybil very much had her own ideas of how things should be, but how did she fit in to the milieu of that time?
She sort of missed out on that very exciting time in London just before the First World War. By the time she moved there in 1921/22, that was kind of over – a lot of the Futurists were killed in the First World War – a sort of tragic end to their calls for violence and the destruction of the past. A lot of artists in Europe sort of returned to order – a return to classicism. There was a continent-wide desire to rebuild and restructure. So, Andrews is a little bit out of step with time: she was never really a Futurist or a Vorticist, but you can make comparisons between their works.
But she did find a group…
She did: the Grosvenor School. That was started in 1926. Her head art teacher [Iain Macnab] from when she was at another art school, Heatherley's, took on herself, Cyril Power and Claude Flight. A lot of the ideas behind the linocut came from Claude Flight. He taught her how to make them and it was his guidance that inspired her and got her into it, even though she had very much her own outlook. Flight wrote extensively about the linocut and how it could be a new art of tomorrow, which Andrews really responded to.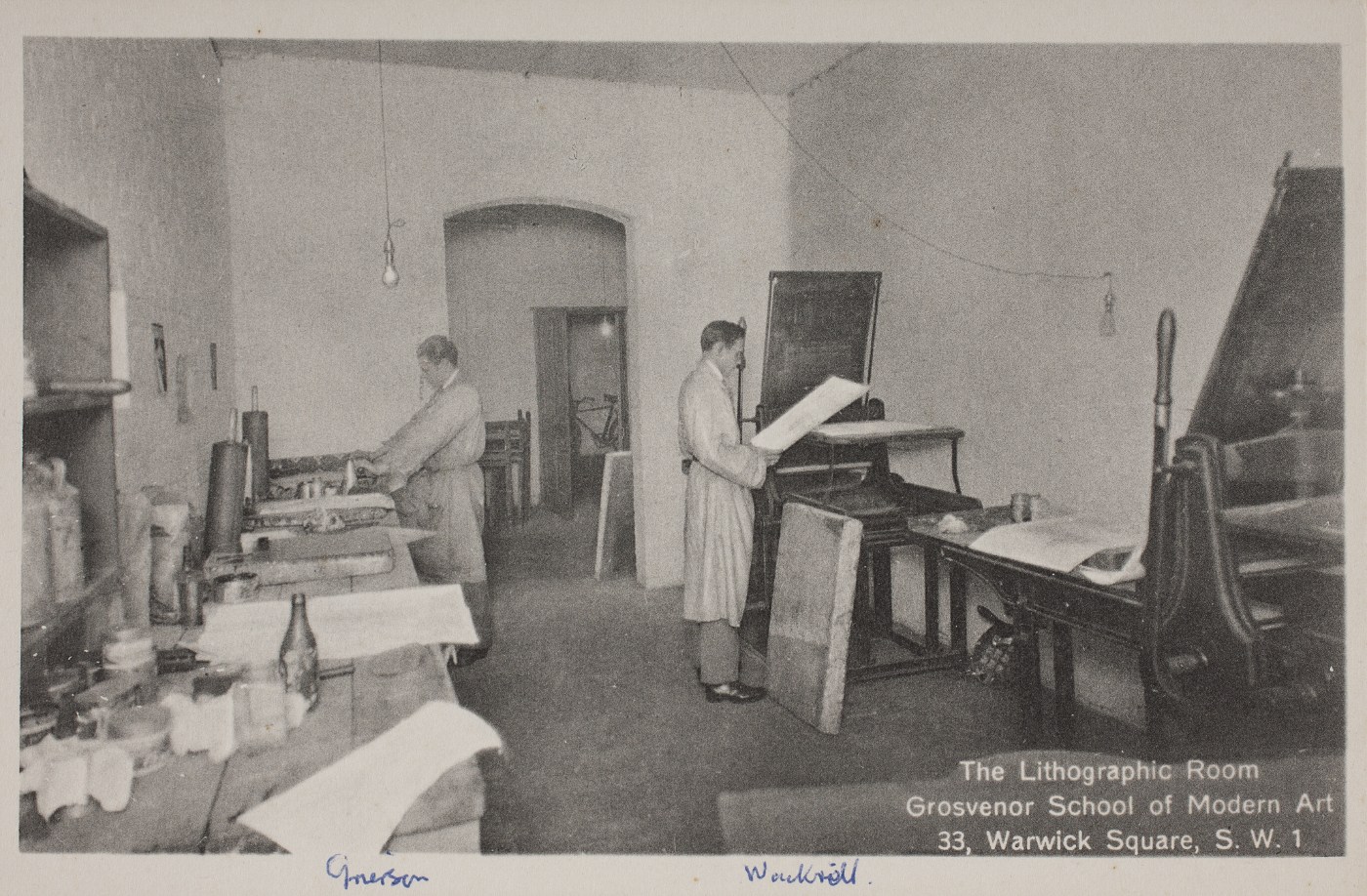 Much of Andrews' work is very industrial, machine-age themed. Did her experience working in factories during both the world wars inform her aesthetic?
Very much so. Just the feel for the rhythm and pace of manual labour. The piece Sledgehammers is based on a scene that she encountered in 1916 and then carried with her for the next 15 years. It really made an impression – the sensory impressions of the scene, the sound – and how they all worked together. I also think her experience really equipped her for working with tools. With the linocut, you gouge intention in – it's a very physical act. She was a welder in the First World War building planes and a woodworker in the Second, working on ships– which is really unique.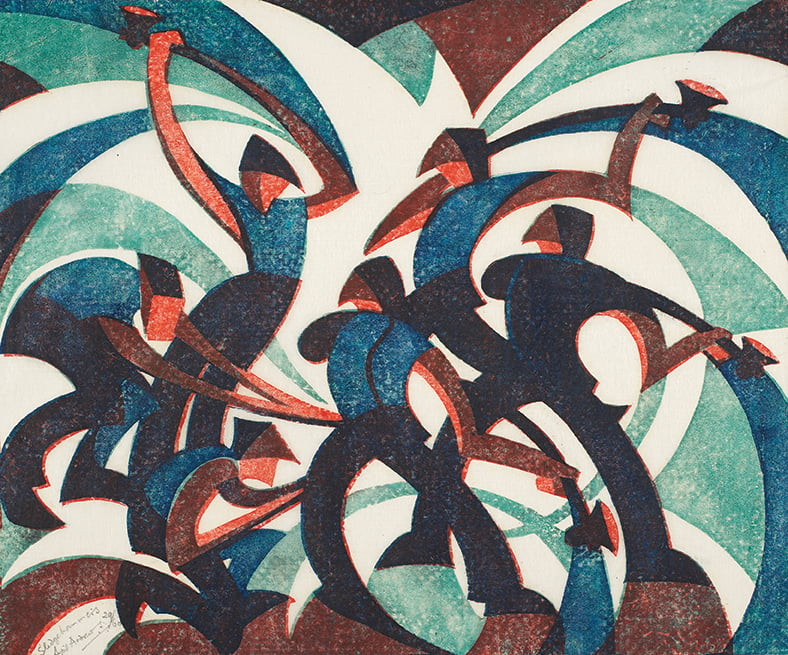 After the war she moved to Canada, to a relatively remote and sparsely populated place. How did that affect her work?
It was a real attraction for her but also a real struggle with the landscape. The scale of things is initially something she can't quite deal with. In her much later career she finds ways in very, very abstracted prints. There's a series of five that she made in the 1970s that are just so non-figurative, so much more so than anything from earlier in her career. But that's how she came to grips with the vast scale of what she was seeing, she brought it down to contained action.
As you've mentioned, her work was kind of under the radar in her lifetime. Is that changing?
I think so, yes. We just had a big show in London on the Grosvenor School, and a biography has just come out by Janet Nicol* and I know that a major British biographer has an interest in Andrews' relationship with Cyril Power.
The Grosvenor School kind of came to a crashing end in 1938, just before the Second World War and were really, as a group, forgotten until the 1960s or 1970s when Michael Parkin, a private gallery, began to take an interest. It started to snowball from there with auction houses and other commercial galleries.
I think this exhibition is really going to further position her – just in terms of how important she is to both English and Canadian art.
Sybil Andrews: Art & Life opens October 19, 2019 at Glenbow.
*On the Curve: The Life and Art of Sybil Andrews is available at the Glenbow Shop.