By Zoltan Varadi
Earlier this week local history buff Alan Zakrison posted an interesting tidbit about a long-gone landmark — a large metal eagle statue that spent decades perched on top of a building at 10 Avenue and 4 Street SW.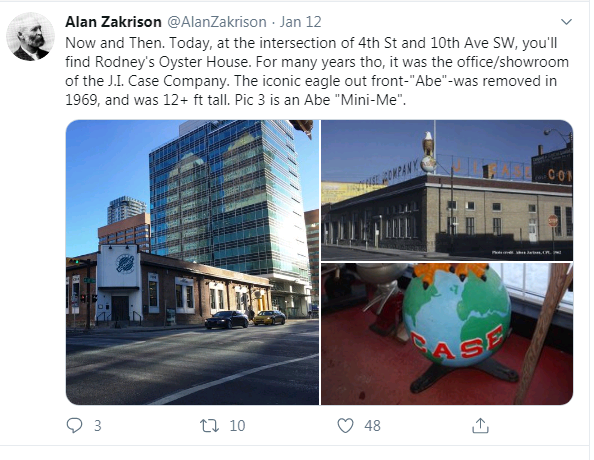 The post triggered a discussion among Alan's followers as to the current whereabouts of "Abe," aka "Old Abe," the bald eagle who dutifully served as the logo for farm equipment dealer J.I. Case from 1865 onwards. We waded into the discussion, perhaps a little prematurely, to confirm that Abe had indeed landed at Glenbow in the late 1960s and is currently resting in our seventh floor storage area. Well, we weren't entirely wrong — there is definitely a large, very heavy cast metal eagle in the building with the Case logo emblazoned beneath its feet. But is it the eagle mentioned in Alan's post? Likely not. More on that in a moment, though. Turns out Abe has an interesting story worth exploring.
The original Abe wasn't fashioned out of metal, nor was he a corporate mascot. Instead, Abe the 1st was a live bald eagle who ended up in the hands of a Union army captain in Wisconsin during the American Civil War. Abe's owner named the bird after President Abraham Lincoln. Apparently, Abe was a highly valued member of the Eighth Regiment of the Wisconsin Volunteer Infantry, and was even the target of enemy soldiers who desired to kill or capture the bird. Abe survived the war but came to a fiery end nonetheless, succumbing to smoke inhalation during a blaze in his aviary in the 1880s.
But, long before he departed for the great nest in the sky, Abe attracted an admirer in one Jerome Case, who appropriated the eagle's likeness for the logo of his business venture, the Wisconsin-based J.I. Case Threshing Company. Founded in 1842, the company, which still exists today as the Case Corporation, was a successful enterprise in the business of making and selling tractors, threshers and harvesting equipment, becoming one of the largest manufacturers of farm equipment in North America.
Which bring us to the Calgary connection. The J.I. Case Threshing Company's branch office in Calgary, Alberta was established in 1906 at 1011 1 Street SW. It moved to its 10 Avenue and 4 Street SW location in 1911, where it remained until 1970. Below is a hand-tinted photograph from the Glenbow Archives of the Case building at its 4 Street location, taken around the time it first opened. As you can see, Abe stands proudly overlooking the scene.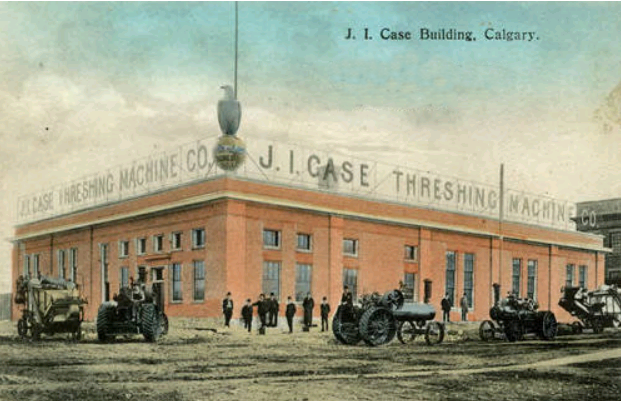 As you can also see, and which Alan indicated in his tweet, that's one big bird — approximately 12 ft. Glenbow's Abe statue stands at just over 4 ft. Furthermore, the Case HQ Abe stood sentinel until 1969, whereas our Abe came into the collection in 1967. Clearly not the same one. In fact, it's likely that Glenbow's Abe didn't even come from the Calgary branch as it was donated by a Case dealer who operated in rural Alberta.
While Glenbow's Abe may not be the one that we initially thought it was, it's still a genuine Case original, and we're glad that he found his home here. So, without further ado, here's our old Abe in all his glory…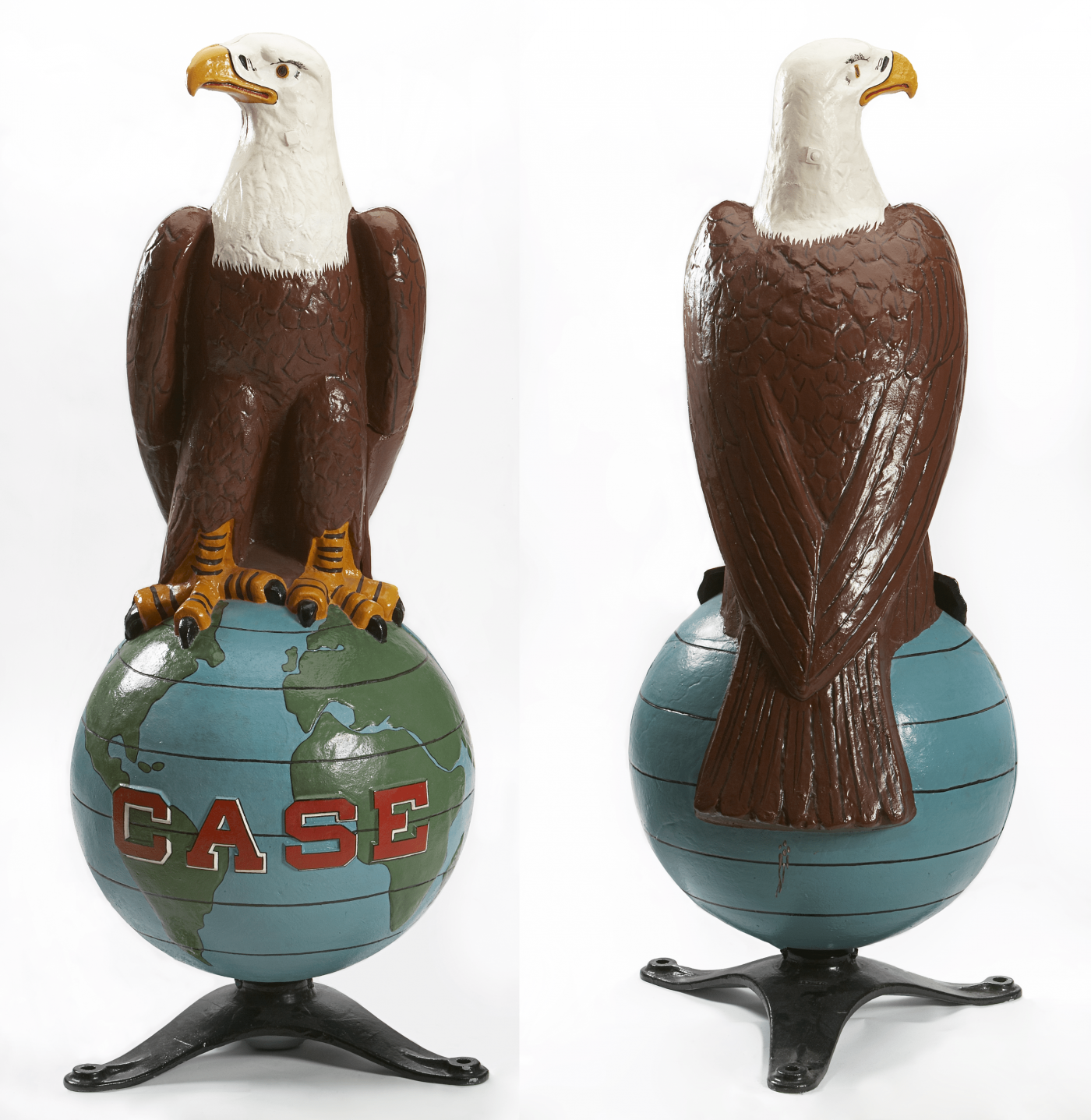 Hat tip to Rocky Mountain Equipment for the background info. And they have an Old Abe of their own!
J.I. Case Building photograph courtesy of Glenbow Archives, Archives and Special Collections, University of Calgary. PA-1889-28.