By Zoltan Varadi
The Canadian arts community lost a vibrant and tireless champion on October 14 with the passing of Jeffrey Spalding. An internationally renowned painter, curator, writer, teacher and director, Spalding was an important advocate for Canadian art and artists for over 40 years.
Renowned for his tenacity and vision, Spalding served as director and/or chief curator at a number of North American institutions, including the University of Lethbridge Art Gallery, Appleton Museum of Art, Art Gallery of Nova Scotia, the Beaverbrook Gallery, the Museum of Contemporary Art Calgary and Contemporary Calgary. From 2007-09 he was President and CEO of Glenbow, placing a renewed emphasis on the museum's visual arts program.
Throughout his career, Spalding was a veritable art magnet. Wherever he worked, donations of art followed and flooded in. While he was curator of art at Glenbow from 1978 to 1981, he collected key works by important Canadian artists such as Ted Godwin, David Thauberger, Mary Elizabeth Scott, John Will and Joe Fafard. During his tenure as President of Glenbow from 2007 to 2009, thousands of works of art were donated to the collection – our closest estimate is 2073 – which collectively became known as "The Big Gift," a tangible legacy for us and future generations.
Spalding was educated at the University of Guelph, Ohio State University and the Nova Scotia College of Art and Design. As an artist, he was involved early on in video work and created important bodies of conceptual and representational painting. Throughout his varied and challenging output he strove to reconcile art history with contemporary issues in a consistently thoughtful and provocative way.
In the 1980s, in his art practice, Spalding began creating a body of work that would reconcile Romanticism with abstraction and contemporary approaches to landscape.
Paintings from this period are like primordial landscapes from the beginning of time. Large in scale, they envelope the viewer in an alchemical soup of light, colour and atmospherics. Monumental and ambiguous, these works successfully found a place for the sublime in contemporary art. For Spalding, the landscape provided art and artists with a renewed relationship with life, something he felt had been somewhat lost in the conceptual depths of the painting genre in the preceding decades.
The gallery below includes three Spalding paintings from the Glenbow collection as well as two works acquired during his tenures here, first as curator then as president.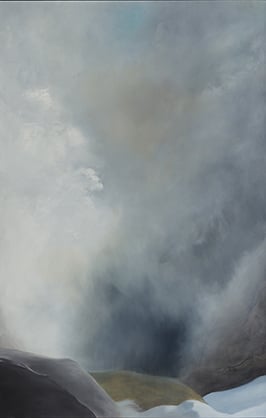 Image Credits (L-R, clockwise):
Jeffrey Spalding, Calgary Window, 1979, Acrylic and Latex on Canvas, Collection of Glenbow
In the late 1970s, Jeffrey Spalding made a conscious decision to incorporate references from his personal life into his paintings. This painting of the Calgary Tower is the view from Spalding's office at the time. The painting on the wall of the office, with colours and shapes that mimic the view from the window, is a tribute to German artist Max Ernst, the subject of an exhibition that Spalding was organizing. While the work appears to be a simple and realistic portrayal, the artist is simultaneously playing with what is real and what is imagined, what is inside and what is outside.
Jeffrey Spalding, Ascending, 1988, Oil on Canvas, Collection of Glenbow
This work was created from a scene experienced atop a glacier near Comox, British Columbia. The paint metaphorically melts into rising mists: a rising spirit, transcendent.
Jeffrey Spalding, First Snow (White Hope), 1996, Oil on Panel, Collection of Glenbow
Sybil Andrews, Racing, 1934, Collection of Glenbow.
Robin Peck, Selenite (Tower) (Representation of a Gypsum Crystal, Calcium Sulphate, CASO4,1994, Collection of Glenbow