A visit to a great museum is energizing — even electrifying. It can give you something to talk about for days, or something to inspire you for a lifetime.
A great museum also builds community. It creates shared experiences and preserves collective memory. It stimulates economic vibrancy. Great museums are landmarks and hubs of activity — they invite people in to participate and discover new things.
This is our vision for Glenbow. We are ready to transform our building and use the physical renovation as a chance to reinvent and reimagine what happens inside and around that building. 
Help us reimagine the museum. It's going to be amazing.
When complete, the new Glenbow will serve as a national beacon for how cultural institutions can be designed with ingenuity, beauty and purpose.
Irfhan Rawji, Chair of Glenbow's Board of Governors.
A revitalized destination for everyone to enjoy
Glenbow's redesigned building will feature:
An accessible open-air lobby and gathering spaces for people to congregate and connect
A restaurant and enhanced retail shop offering a one-of-a-kind cultural entertainment experience to both Glenbow guests and the public
Innovative gallery spaces designed to accommodate large-scale exhibitions and installations
Flexible education spaces that facilitate immersive learning experiences and hands-on access to the collection
New technology providing more ways to engage and interact with exhibitions and items in the Glenbow collection
A financially and environmentally sustainable design guided by industry best practices and architectural standards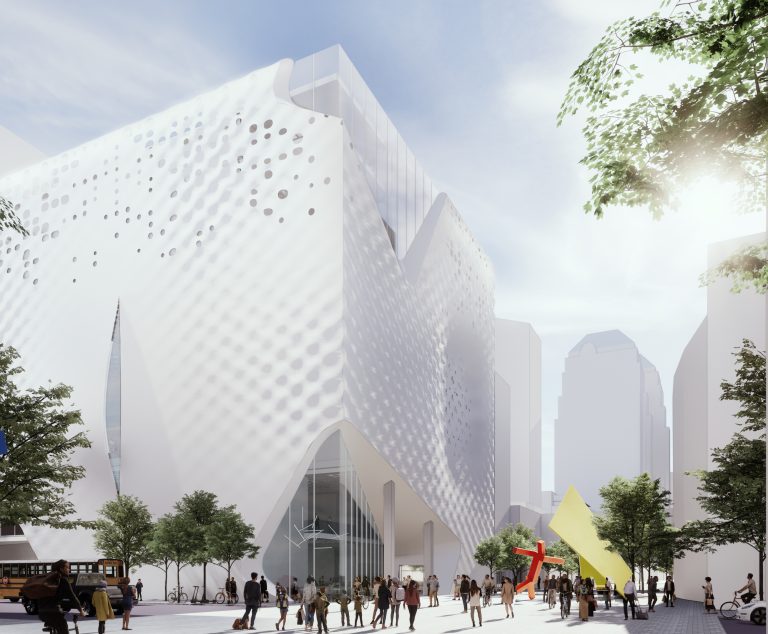 Building for increased accessibility and engagement with our community
Glenbow is a museum that believes art is for everyone. A new building provides an opportunity to eliminate barriers to accessibility – reimagining museum hours, admission costs, technology barriers and more – to ensure that the Glenbow experience is accessible to and welcoming for people of all abilities, ages, backgrounds and life experiences.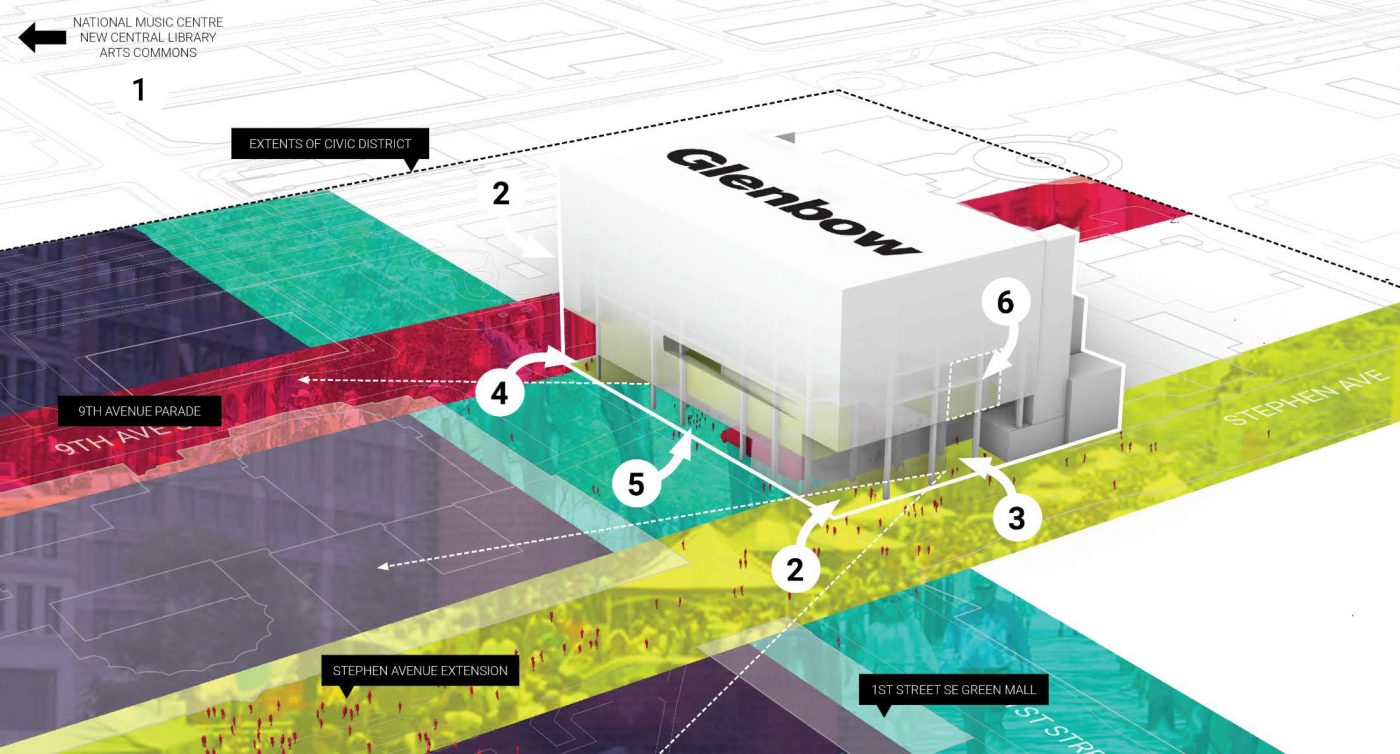 Why now?
Glenbow's renovation will mitigate the substantial risks Glenbow is facing due to aging building infrastructure. This project will protect the collection that Glenbow holds in trust for the the people of Alberta. It will increase the lifespan, accessibility and energy efficiency of the building, as well as improving physical accessibility and usability for the public. 
Glenbow's revitalization project will create up to 650 construction-related jobs, and will create long-term opportunities to create future cultural sector jobs. Calgary-based project partners were selected for all aspects of the renovation project, including architectural design, construction and project management with a deliberate "shop-local" mandate.
A revitalized Glenbow will complement and connect downtown Calgary's most exciting cultural spaces, from Contemporary Calgary in the west to Arts Commons, the New Central Library and the National Music Centre to the east. This dynamic cultural district will ensure downtown Calgary remains a healthy, vibrant destination for everyone. 
Glenbow's renovation and redesign will be responsive to post-COVID needs for public space, including airflow, accessibility, interactivity of exhibitions and capacity management.
The renovation project will contribute to Calgary's post-COVID economic recovery by supporting Calgary's cultural sector and increasing potential for arts-related jobs. The project will support the city's rebounding tourism industry, as well as offering spaces and programs that support education, innovation and social projects in the community. 
The renovation will transform Glenbow from an introverted, opaque building closed off from public view into a cultural landmark with a welcoming presence and amenities that will allow people to interact with art in new ways. It will offer unparalleled public access to Glenbow's collections and exhibitions, increasing both physically and financially accessible opportunities for Calgarians to engage with Glenbow.
Our journey so far
Our path to revitalizing Glenbow and building a reinvigorated cultural destination has been ongoing since 2013. We are now moving forward with our campaign as we begin this $115 million project. 
2013
Glenbow's board and staff place increased focus on financial stability and sustainability in order to move beyond the status quo and start to envision bigger, bolder goals for Glenbow.
Glenbow begins offering free admission to thousands of people through sponsored initiatives such as Free First Thursday Nights and Community Day. Through these and other special access programs, over 100,000 people have been able to visit Glenbow for free, including 33,000 last year alone.
We continue building on Glenbow's 30-year history of community collaboration and engaging with Indigenous stakeholders adding new public programs for Indigenous education opportunities, led by Indigenous educators.
2015
Glenbow engages Calgary-based design firm Dialog to produce architectural concept drawings, working with an international museum consulting firm to inspire our plans for Glenbow's future.
2017
We begin conducting extensive stakeholder engagements and audience research to dig into big questions about how Glenbow serves our community and how to grow our impact.
2018
We use the feedback and data from these engagements to inform a strategic planning process that identified clear ways Glenbow needed to evolve to better serve our community.
After a building assessment, it becomes clear that our situation is urgent. The estimate to fully assess and mitigate all issues and replace aging internal systems starts at $17 million. Glenbow holds a nationally significant collection of art and cultural material that is owned by the people of Alberta, and our ability to care for it and ensure that our community has access to it is at risk.
2019
We undertake renovations of Glenbow's current gallery spaces to act on our mandate and make Glenbow's collection more accessible. We also begin increasing exhibition cycles and presenting more content with fresh and diverse perspectives.
With ambitious, nationally significant exhibitions of art, fashion and culture, we achieve an increase in general attendance by more than 42 per cent since 2013.
2020
The provincial government pledges $40 million towards revitalizing Glenbow's aging infrastructure and modernizing the building. This funding must be matched to be unlocked.
After a series of Requests for Proposals (RFPs), Glenbow's prime consultant, construction manager, engineering lead and development manager are selected and Glenbow is now fully 'shovel ready' for a complete interior and exterior renovation.
Calgary City Council approves allocation of $14M for Glenbow's renovation from Municipal Stimulus Program Funding.
Let's build a building that gives you a thrill when you recommend people visit it. That makes you proud to have contributed to it. A building that gives people a sense of belonging and ownership. A building that responds to the needs of our city and creates new possibilities for the future.
To learn more and support our Campaign – Glenbow Reimagined – please contact:
Kim Kadatz, VP Advancement
kkadatz@glenbow.org