Nick Cave is one of America's most celebrated and iconic contemporary artists. His creations, bursting with colour and texture, are optical delights that can be enjoyed by audiences of all ages and backgrounds. A deeper look reveals that they speak to issues surrounding identity and social justice, specifically race, gun violence and civic responsibility. Along with broadcasting an increasingly urgent call for equity, Cave wants his art to spark viewers' imaginations and inspire compassion, mutual understanding, and collective dreaming.
Nick Cave: Feat. Is the first exhibition in Canada solely dedicated to this singular and extraordinary artist. The exhibition is intended as a mini-survey of a rich career that has encompassed performance art, video, dance, fashion and sculpture in equal measure. The exhibition's title refers to the exceedingly hard work that goes into attaining success.
It's not even a question of whether art can change the world… it's whether or not you're going to come along. 
Nashville Scene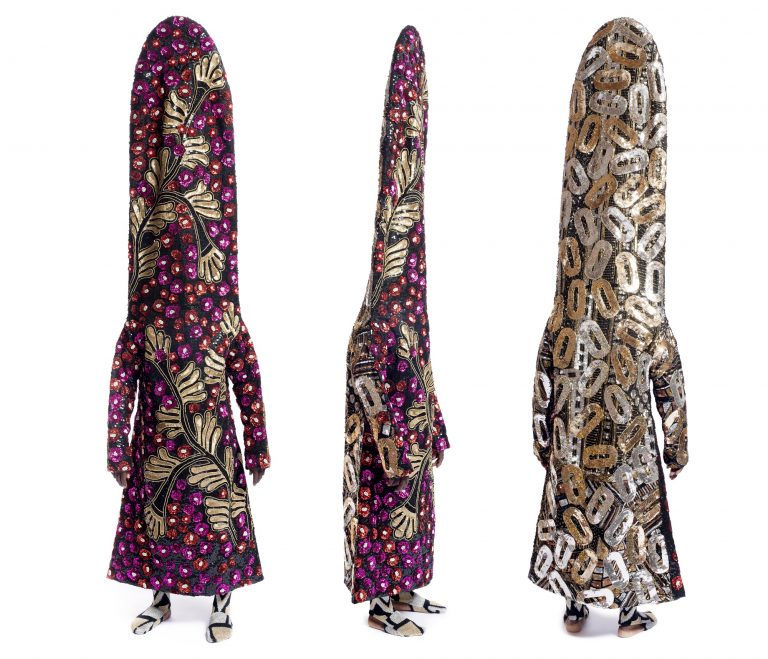 The centrepiece of the exhibition is a runway of Soundsuits – Cave's most famous creation. A kind of wearable sculpture, Soundsuits are part costume, part fashion explosion, part political statement. The first Soundsuit was created in response to the 1992 beating of African-American motorist Rodney King by Los Angeles police officers. In the wake of that event, Cave, as a young black man, felt vulnerable, unseen and discarded by society. He was drawn to collect sticks and twigs, which he felt represented "unwanted" things. He used them to construct a kind of bristling suit of armour to obscure race, gender, class and identity. The name "soundsuit" came from the rustling sound the piece produced when Cave put it on and moved about). Since then he has created more than 500 Soundsuits, often in response to urgent and tragic events.
The runway of soundsuits serves as a kind of gateway into what exhibition curator Katie Delmez calls the "maximalist world" of Nick Cave. An immersive experience, it is impossible to fully describe the sensory overload of Cave's vision. Delmez, for her part, makes a simple promise to anyone who chooses to engage with this exhibition: "You will not be disappointed."