This major retrospective celebrates the fascinating life and remarkable career of English-Canadian printmaker Sybil Andrews (1898 – 1992). The exhibition draws on Glenbow's extraordinary collection of Andrews' artworks, as well as the contents of her studio and the sketchbooks and journals that illuminate her life and passion for art making.
Glenbow's connection with Sybil Andrews began in the early 1980s, when the museum organized an exhibition of her linocuts. As a result of this interest in her work, Andrews gifted more than 500 of her artworks to Glenbow, as well as the contents of her studio, which included personal papers and objects, making Glenbow the major study centre for Andrews' life and work.
A visionary artist, Sybil Andrews found her artistic voice in the form of the linocut, a printmaking medium that demands directness and dynamism.
Andrews' striking images are characterized by her bold use of colour and line. By stripping out extraneous detail, Andrews was seeking to "eliminate non-essentials to learn that great lesson of balance." The resulting artworks are vital and eye-catching, often capturing a sense of energetic motion.
Sybil Andrews lived the second half of her life in Campbell River, British Columbia, but was born in the small market town of Bury St Edmunds, England. Her fascinating life included apprenticing as a welder and working in an airplane factory in World War I, while simultaneously taking an art correspondence course that led to her becoming an art teacher in the post war period. She spent several years studying and living in London as a practicing artist. During World War II, she resumed working as a welder and constructed warships for the British Power Company. In 1947, she and her husband moved to Canada, where they made a living building and repairing boats. In the 1970s-80s Andrews' artwork was "rediscovered" by the art world and she became a local celebrity on Vancouver Island. She lived until 1992 working as an artist and teacher in Campbell River. Andrews original prints are much sought after by collectors around the world and are held in many significant museum collections.
It doesn't matter what happens to the work or picture afterwards. The only thing that matters is the doing of the work – that it should be done.
Sybil Andrews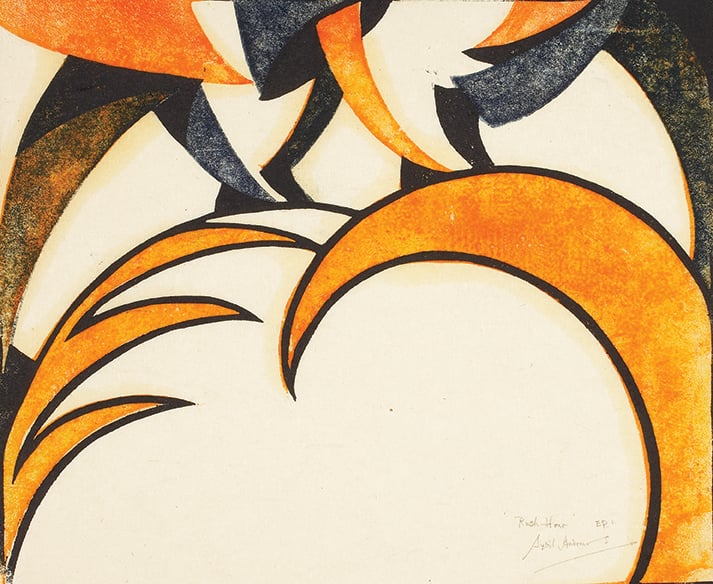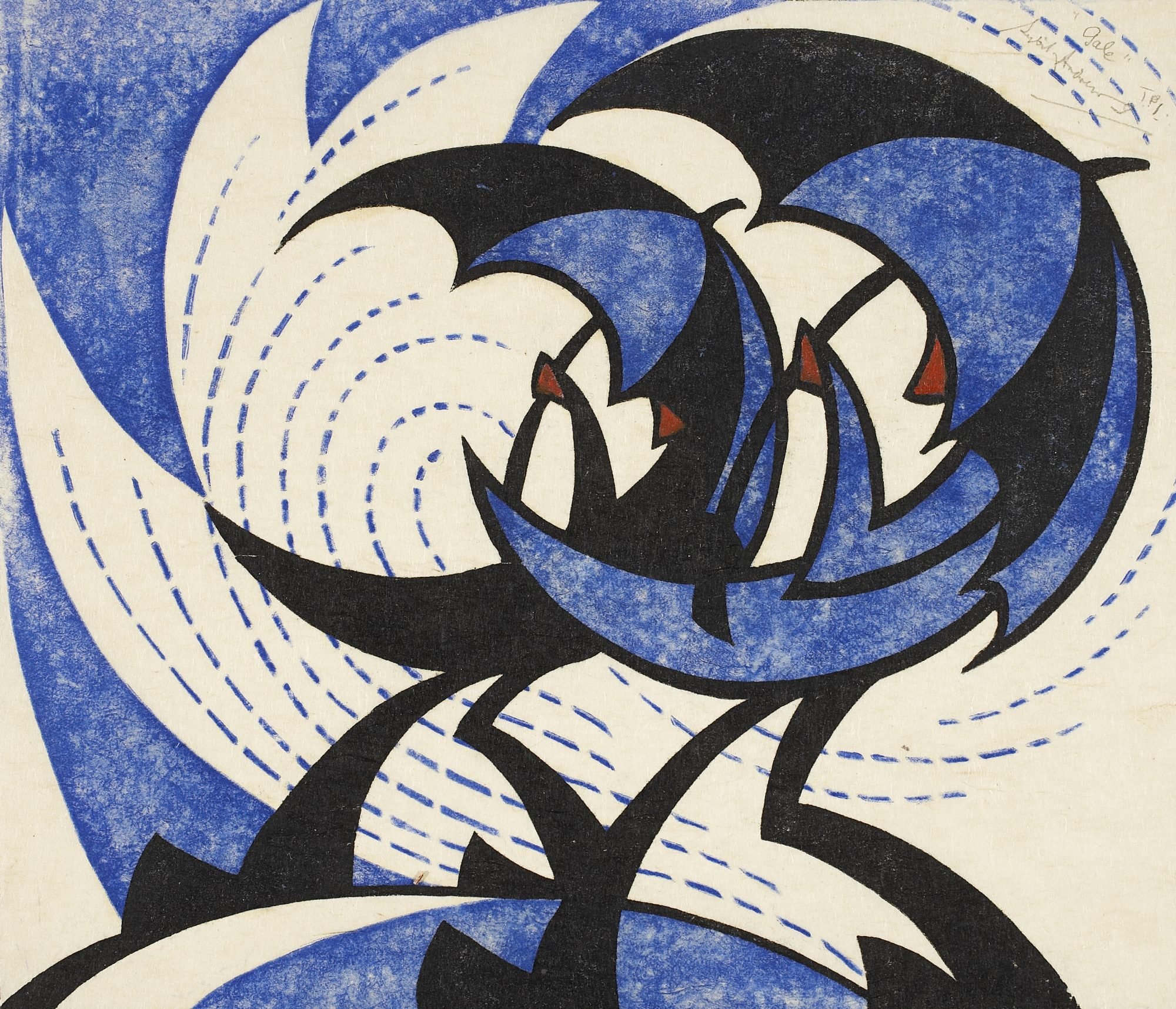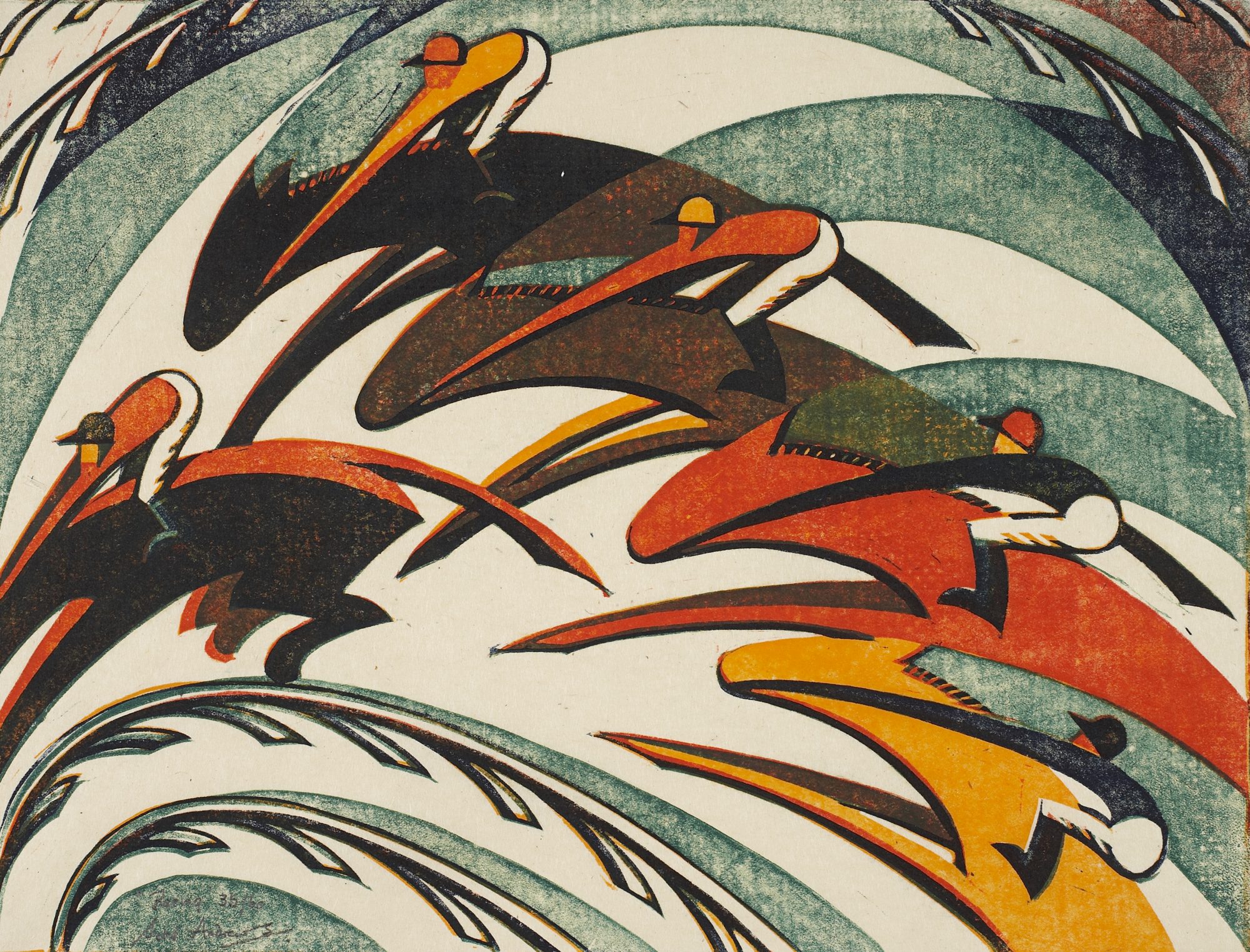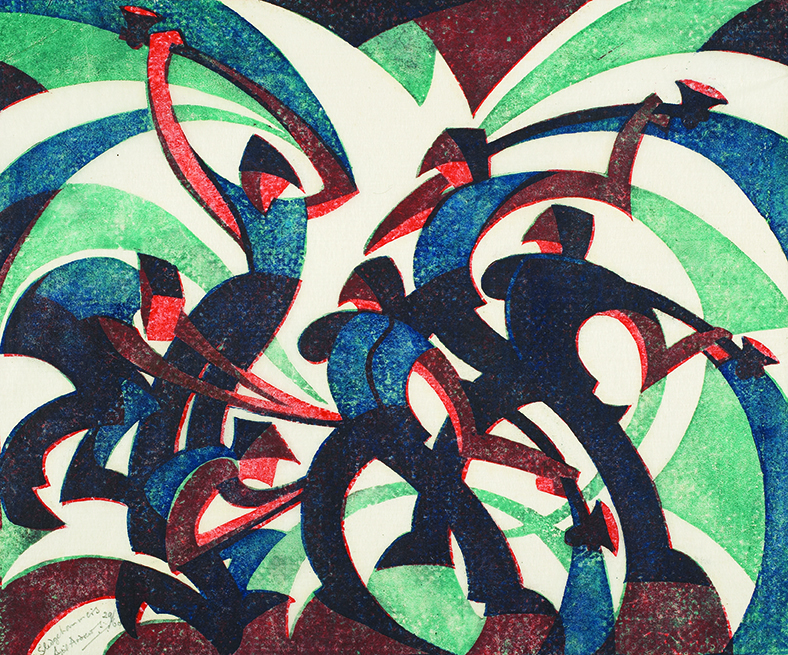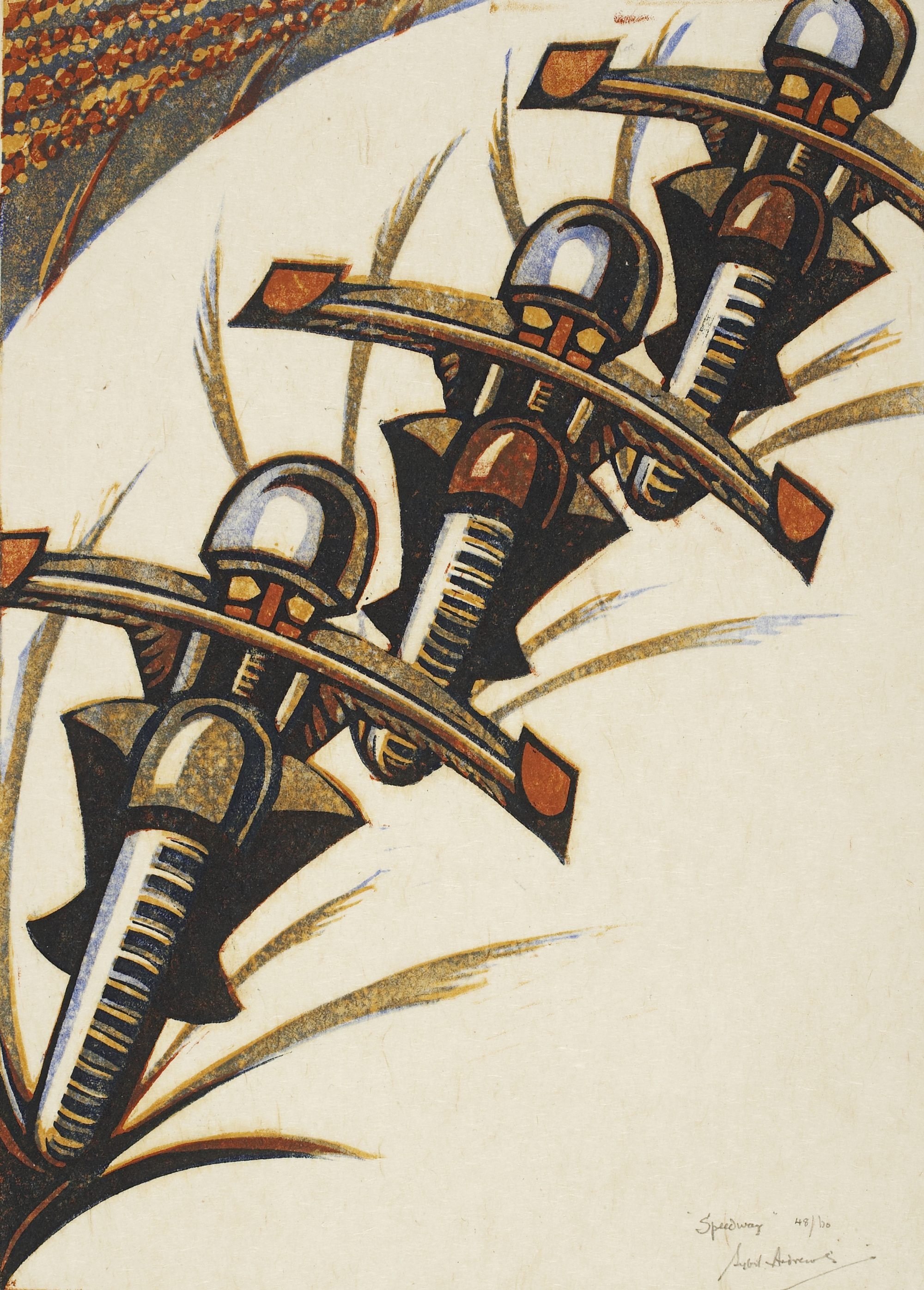 Sybil Music Project
As a complement to the exhibition three Canadian composers were commissioned to add a musical element to Sybil Andrews' legacy. Each composer created a new short work inspired by themes in Sybil Andrews' artwork. The Sybil Music Project was made possible by the generous support of the DeBoni family.
The works are performed and recorded by the Land's End Ensemble: John Lowry, violin; Beth Root Sandvoss, cello; and Akiko Tominaga, piano.
---
Composer Notes: Jocelyn Morlock
From the moment I saw it, I immediately fell in love with the fast mechanistic energy of Sybil Andrews' "Speedway" – you can feel the dangerous thrill of the riders as they race around a curve (it's so cool how they're leaning, precarious and exciting). It evokes a feeling of being almost out of control – but not quite. The music is similarly dangerous for the performers, speedy, aggressive, with lots of twists and turns; occasionally it has to make a brief stop, but it races back to life as soon as possible.
Composer Notes: Alexina Louie
The idea of responding to the gentler beauty of Sybil Andrews' more pastoral images appealed to me. The darkness and the swirling activity of Storm as well as the gnarled roots of Douglas Firs set the tone for the mysterious opening of my trio. Through these images I imagined the harshness of her life during the difficult war years.
However, just as her life moved from darkness into a realm of light and natural beauty, so too does my piece. I chose the more subtle colours and contours of Fall of the Leaf and the graceful motion in Swans as my inspiration for the end of my trio. It concludes with the gentle, serene flight of the swans and the beautiful sounds of bird calls echoing through the mist of Canada's beautiful West Coast.
Composer Notes: Allan Gordon Bell
Sybil Andrews' work is suffused with swirling energy and multiple perspectives on the same image. Her forms are always informed by her medium – images that emerge from myriad cuts. This piece does not respond to a single print, instead it responds to the energy and to the forms that thematically link all of the images during this inter-war period while she was in London. Printmakers put series numbers on their works. Hence the title: 29/39 SA in motor, vorticular, cubistic cuts.
Generously Supported By
Walter & Irene DeBoni
Phyllis Konrad & Carl Bonke
Susan Russell & Paul Chave
Jim & Dorothy McLeod