Watch as George discusses the enigmatic life and fascinating photographic legacy of Vivian Maier and shares his perspective on why her story and her work have captured the imagination of so many of us. He also reveals his research into a little-known Calgary connection with Vivian Maier.
This live webinar conversation with master photographer George Webber was recorded on May 7, 2020.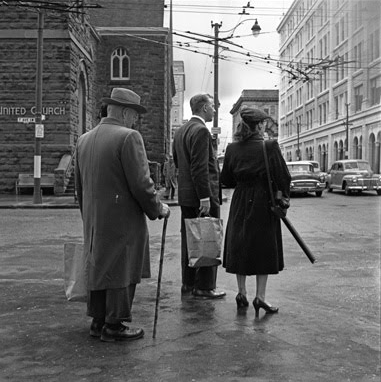 Vivian Maier: In Her Own Hands was organized by diChroma Photography and curated by Anne Morin
Learn More about George Webber 
Learn more about Vivian Maier
George Webber's research into Vivian Maier led him to a 2009 blog post by John Maloof that includes this photograph by Vivian Maier that was unmistakably taken in Calgary in the 1950s – you can find it here (scroll down to the 27th image!)
More Resources
During the conversation, George references a book about Vivian Maier that he found valuable: Vivian Maier: A Photographer's Life and Afterlife by Pamela Bannos
George also mentions a few photographers whose work has been influential for him. Here are some links to learn more about those artists:
Henri Cartier Bresson
Lee Friedlander
Bill Cunningham
Watch the Vivian Maier documentary that started it all! Finding Vivian Maier can be viewed for free on Kanopy using your Calgary Public Library Card to create an account.
About Glenbow From Home
We're creating opportunities for you to experience art outside of Glenbow's walls. We know that having access to art and culture is an important part of our daily lives, so you can access Glenbow online anytime — through these virtual tours, online collections, educational videos, activity ideas, webinars and more.
Let's stay connected! ❤️