Museums are essential.
At Glenbow we are reframing our community's relationship to arts and culture with this simple yet groundbreaking belief. Our common future will be brighter if we strive together to improve this service for all. This is our aspiration for Glenbow at the JR Shaw Centre for Arts & Culture. This is Glenbow Reimagined.
Today's big questions demand new perspectives. We require places that will challenge, teach and inspire us to define our world, to connect with others, to become our better selves. Access to arts and culture helps us to grow and evolve for the future. Now, a transformational gift from the Shaw family will make this possible: Imagine a Glenbow that provides free general admission for everyone, forever. Access to Canada's museums has always been a privilege available to a few. At Glenbow it will become a right for all.
Glenbow is located on Treaty 7 territory and respects the history, languages, traditions and cultures of the nations on whose traditional land we reside: the Niitsitapi from the Blackfoot Confederacy, which includes Siksika, Piikani and Kainaiwa; the Îyârhe Nakoda of the Chiniki, Bearspaw, and Wesley Nations; and the Dene of the Tsuut'ina Nation; as well as the Métis Nation Region III. Their contributions to the museum and continued support are integral to our success in educating our visitors and sharing the rich heritage of this land. We further acknowledge the vital connections we have to other indigenous people (including other First Nations, Inuit and Métis), whose visual and intangible culture is represented in our collections and exhibitions.
At Glenbow we are asking, what does it mean for a museum to be radically accessible?
This is helping us to define how you will experience Glenbow at the new JR Shaw Centre for Arts & Culture. Here's what we're working on right now.
Eliminate general admission to remove the fundamental barrier of affordability. The Shaw family gift will ensure everyone has an opportunity to access Glenbow's resources, in perpetuity.
Redesign our building to recognize physical accessibility barriers and incorporate inclusive solutions by listening to experts and advocates with lived experience.
Explore new methods of reaching you in your home language. Let's put the monolingual museum behind us.
We hope this gift that the Shaw Family and the Shaw Foundation have given will really entice Calgarians, Albertans and Canadians to join in and help revitalize the art community and make Calgary a cultural hub.
Julie Shaw, President, Shaw Family Foundation
Glenbow will be a people-centered place that celebrates this community's vibrancy, while elevating our city on the global stage of design, architecture and renewal.
Tearing down Glenbow's building was never the solution. Instead, we are leveraging its inherent value, discovering green solutions for our future home and providing other Canadian cities with a model of architectural reuse.
Glenbow at the JR Shaw Centre for Arts & Culture will anchor the downtown cultural district and help to foster a livable, walkable and safe city.
For the first time, all eight floors of the museum will be accessible to the public, creating more diverse visitor experiences across a more transparent museum.
At street level, a new museum entrance along a revitalized Stephen Avenue will engage passers-by with enticing views into the building and a lively, active perimeter.
A new theatre, shop and restaurant will create more reasons to stay and enjoy all that Glenbow and the city has to offer.
A fifth-floor roof terrace will invite visitors to experience an expansive yet intimate outdoor space overlooking the heart of downtown.
Glenbow will provide the cultural infrastructure citizens of Canada and the world look for when deciding where to work, live and raise a family.
The revitalized Glenbow is going to have an outsized impact on downtown Calgary. It will be a tent pole to show the cultural revitalization happening in this city; it is a tangible example of us investing in our future.
Irfhan Rawji, Glenbow Reimagined Campaign Co-Chair
Museums aren't just for looking at things; they help us discover who we are.
Every artwork, every belonging is a window into another person's experience. When we engage with them we affirm the museum as an engine for empathy.
More of Glenbow's collections will be on view more often, providing new opportunities for curiosity and wonder, dialogue and reconciliation.
We are building new community spaces to support increased Indigenous access to belongings in our care.
The new JR Shaw Institute for Canadian Art will expand our appreciation and understanding of Canadian Art in all its forms through exhibitions, educational and public programs, and artist and scholar residencies.
Glenbow's revitalized curatorial approach will invite artists and individuals from communities represented in Glenbow's collections to present their own stories.
Museum values have evolved dramatically in the last half century. To stay relevant, the museum today must be community-centered first. That's why Glenbow Reimagined is about so much more than a building.
Our good neighbour strategy emphasizes community partnerships to bolster the civic, social and therapeutic benefits of museum experiences.
Commit to decolonization and reconciliation through collaboration with Indigenous communities in Treaty 7 and beyond. Glenbow is building on its long track record of Indigenous partnerships to ensure Indigenous leadership shapes exhibitions, education, programming and stewardship of Indigenous belongings at Glenbow.
We are building a new education centre to increase our school capacity by more than 30% to 80,000 students annually.
We are committed to expanding our successful museum school model to provide new learning opportunities for people of all ages.
We are expanding the museum's programming so it can serve as a foundation for mental health and wellness.
Glenbow is developing partnerships with other leading civic institutions in Calgary to pool our ideas and passions for the community at large. We can achieve more together.
Museums have to be a place where we can educate our young people, our old people and anyone who is interested in learning about our histories.
Kent Monkman, Glenbow Reimagined Campaign Co-Chair
Glenbow is advancing new models of sustainability. We owe it to the earth, to each other, and to future generations.
A sustainable Glenbow means progressive approaches to the environment and our finances.
By reusing our existing building, Glenbow prevents the production of 56,000 t of new carbon over the lifespan of the building and keeps 38,000 t of concrete out of the landfill.
Building a high performing building envelope and replacing existing obsolete systems will yield annual energy use savings of 38% and will result in a reduction in Greenhouse Gas Emissions by 41%.
Glenbow has considered future risks and hazards associated with climate change and has integrated mitigation strategies into the design to increase the building's resiliency and to ensure a sustainable future for Glenbow.
Glenbow is progressively executing an impact portfolio lens across its investments, going beyond environmental, social and governance criteria to directly support resources for artists, Indigenous communities, mental health and climate change, right here at home.
The building of new restaurant, shop, theatre, and event spaces throughout the JR Shaw Centre for Arts & Culture will increase earned revenues, protecting access to Glenbow's resources from future economic uncertainty.
The JR Shaw Free Admission Endowment will bring more people to the museum and increase traffic to Calgary's culture district, supporting our economic recovery.
We have the opportunity to be international leaders in sustainable museum design and construction. We need to look at the project through multiple lenses, multiple considerations of how we can design a museum in a sustainable way.
Jodi James, Associate Architect, Dialog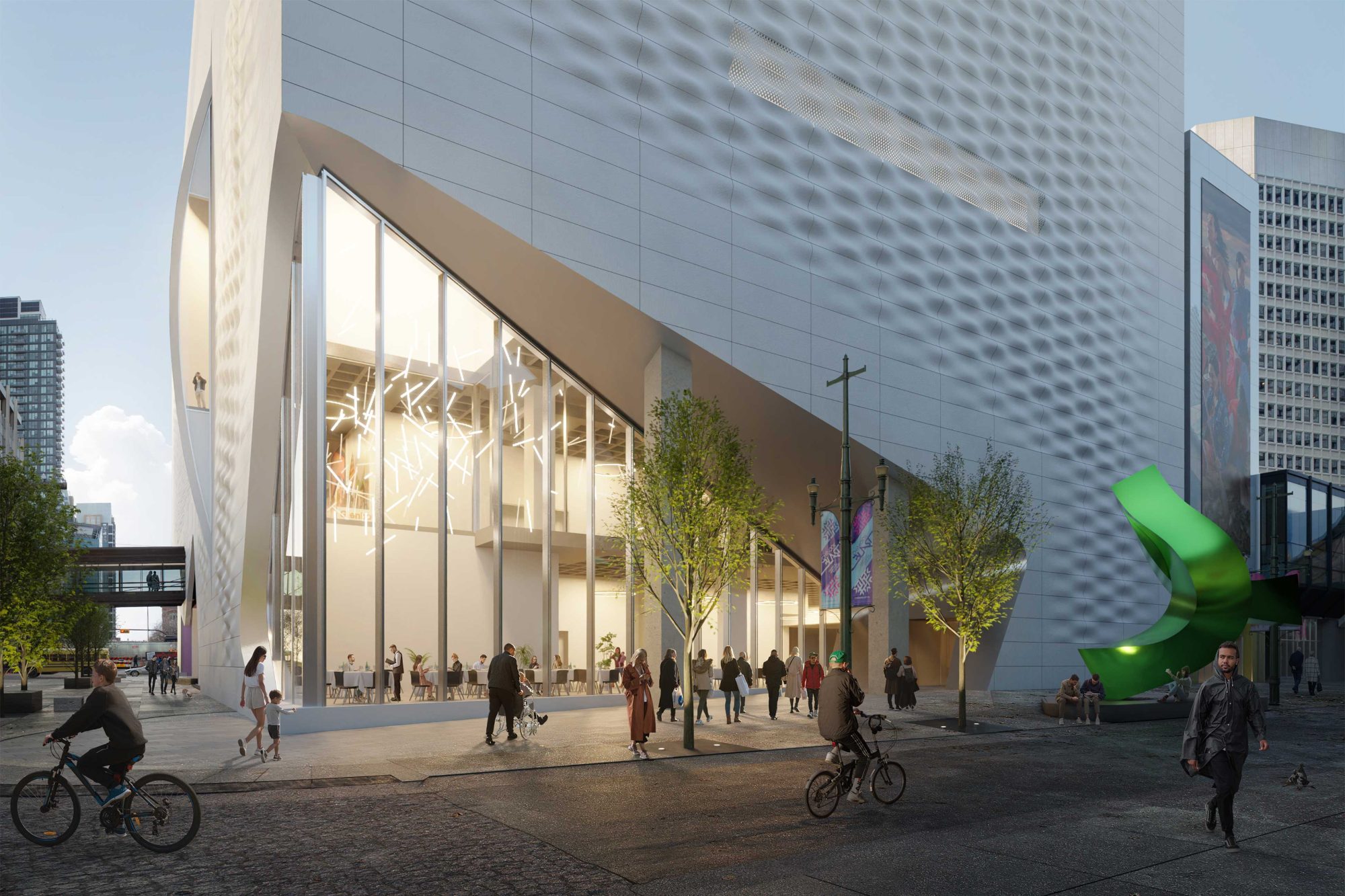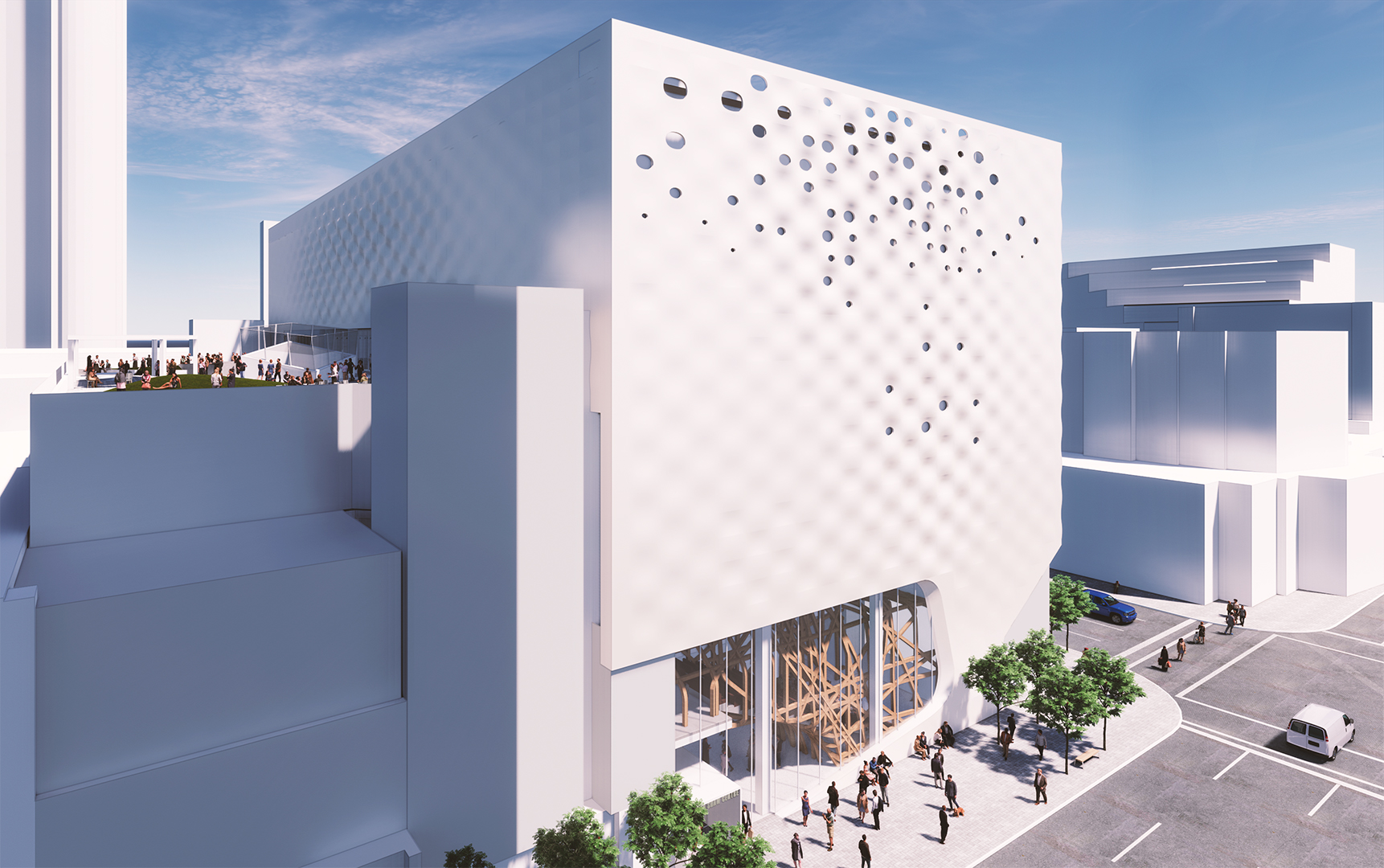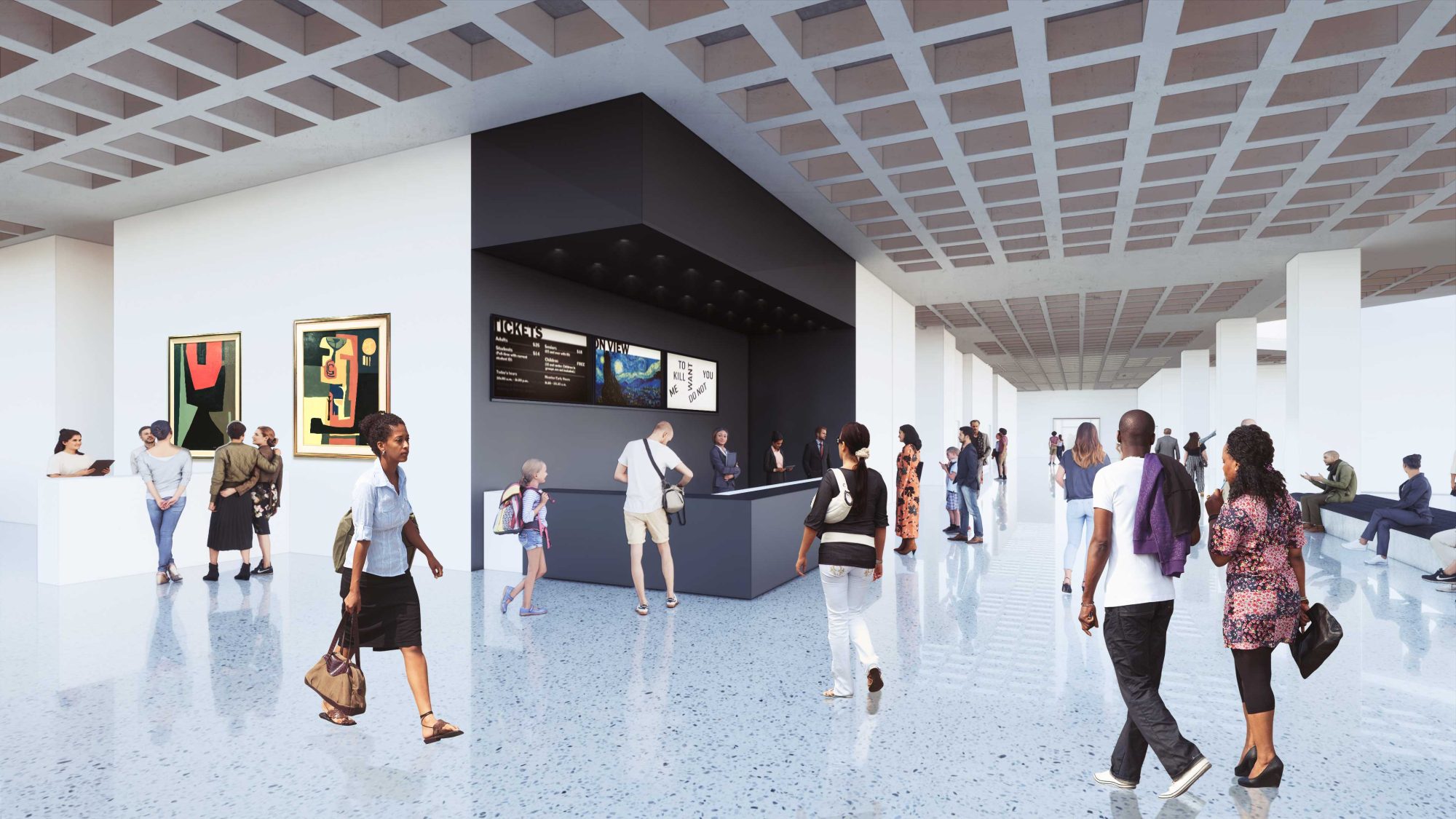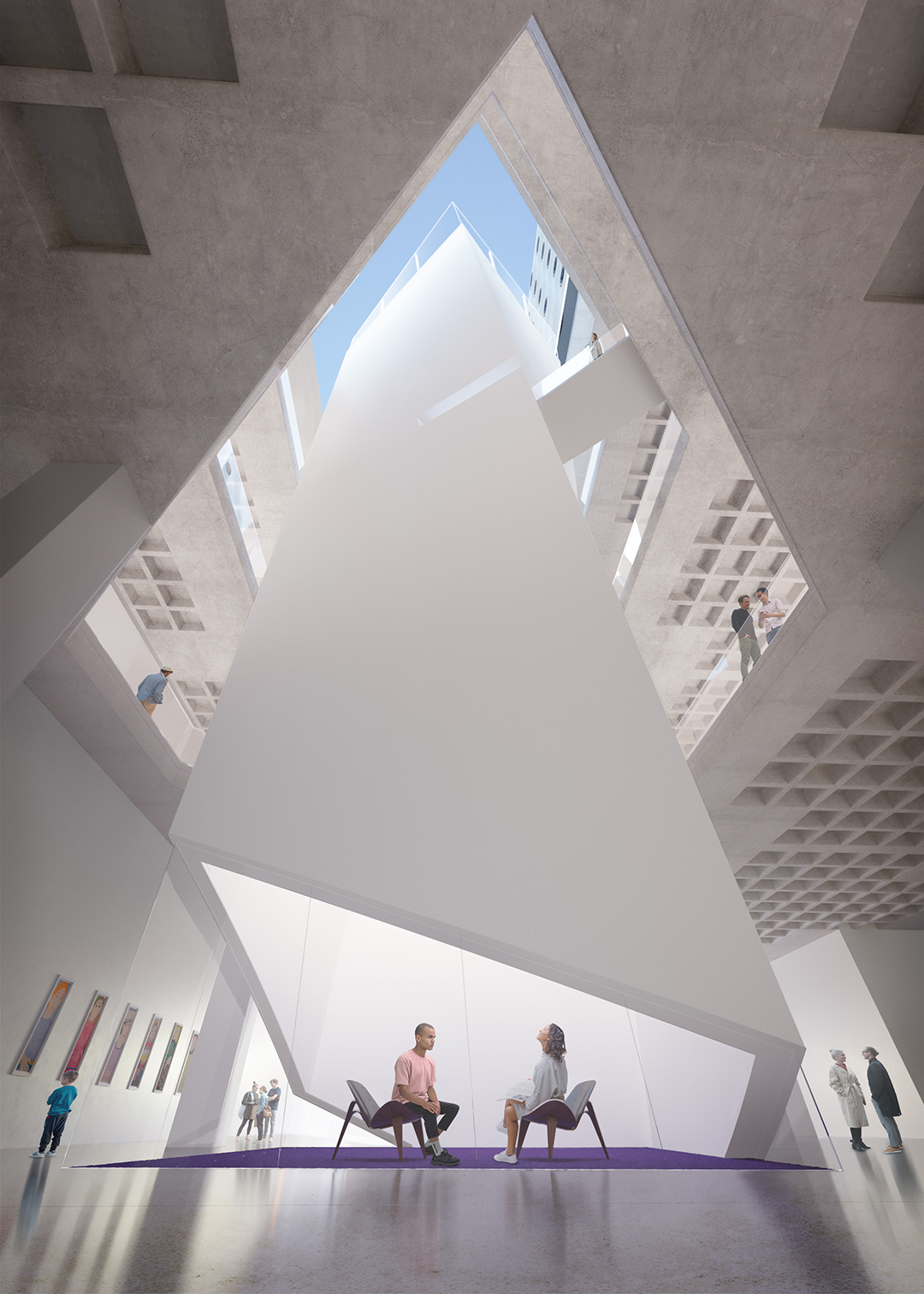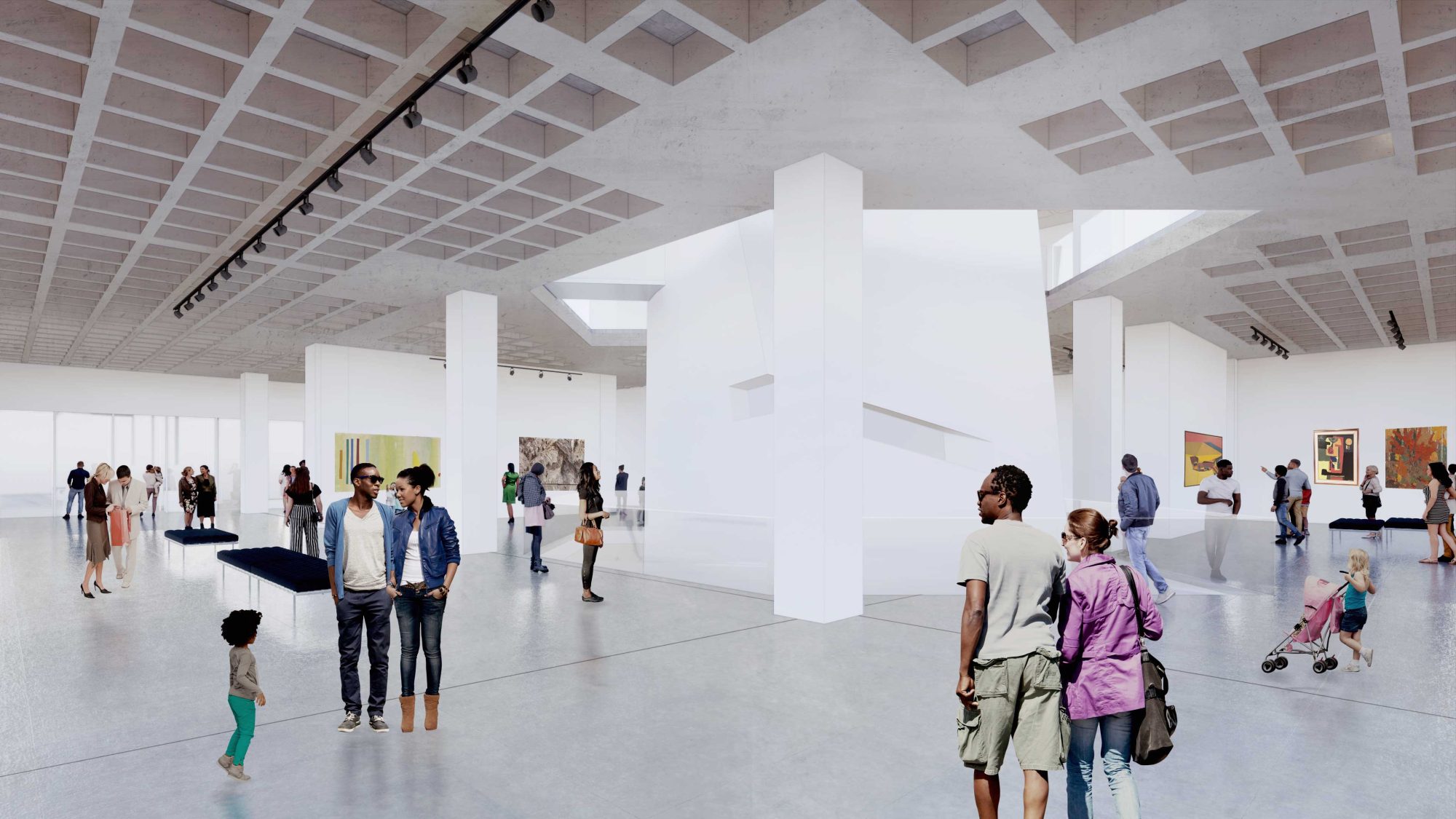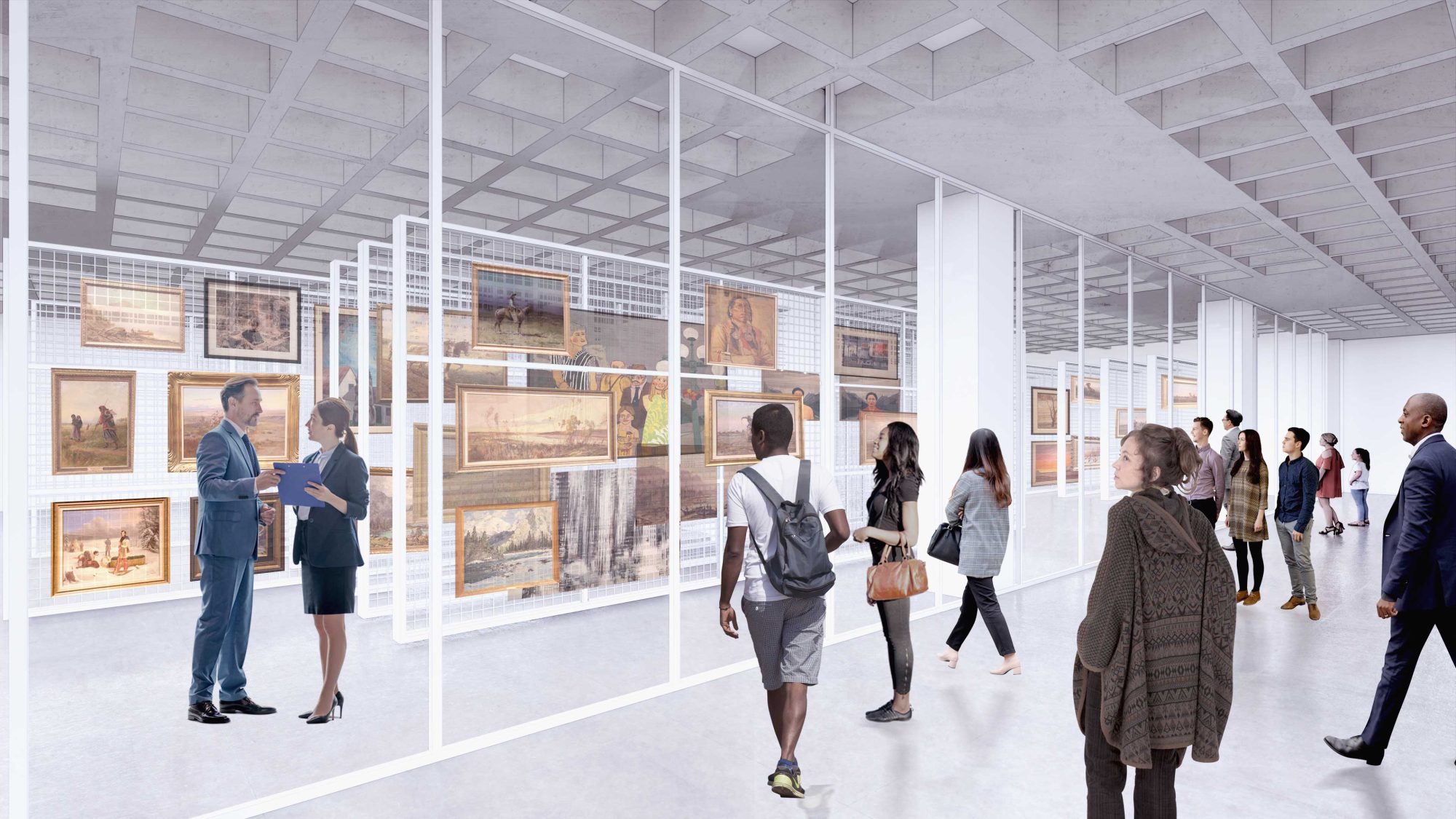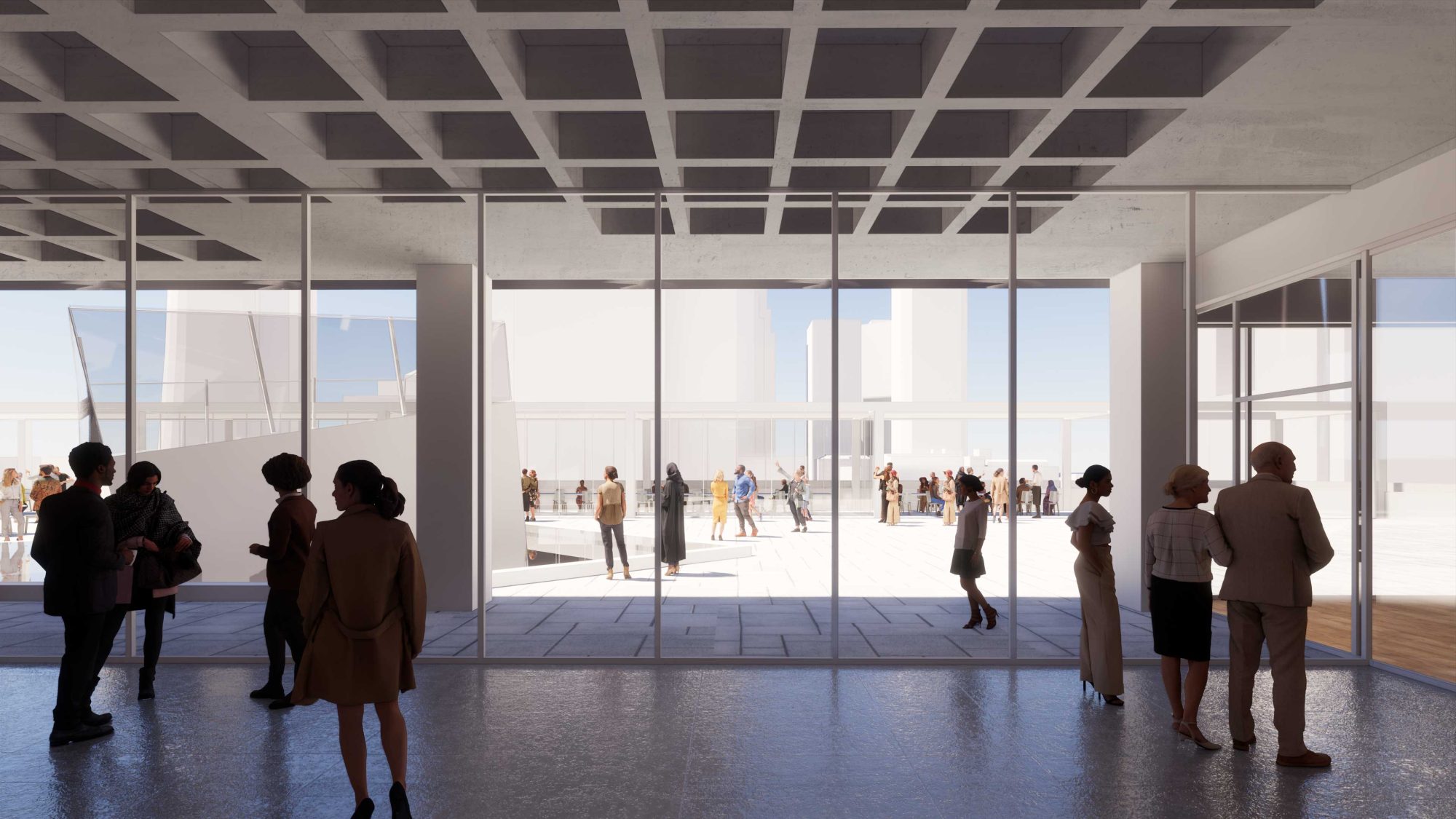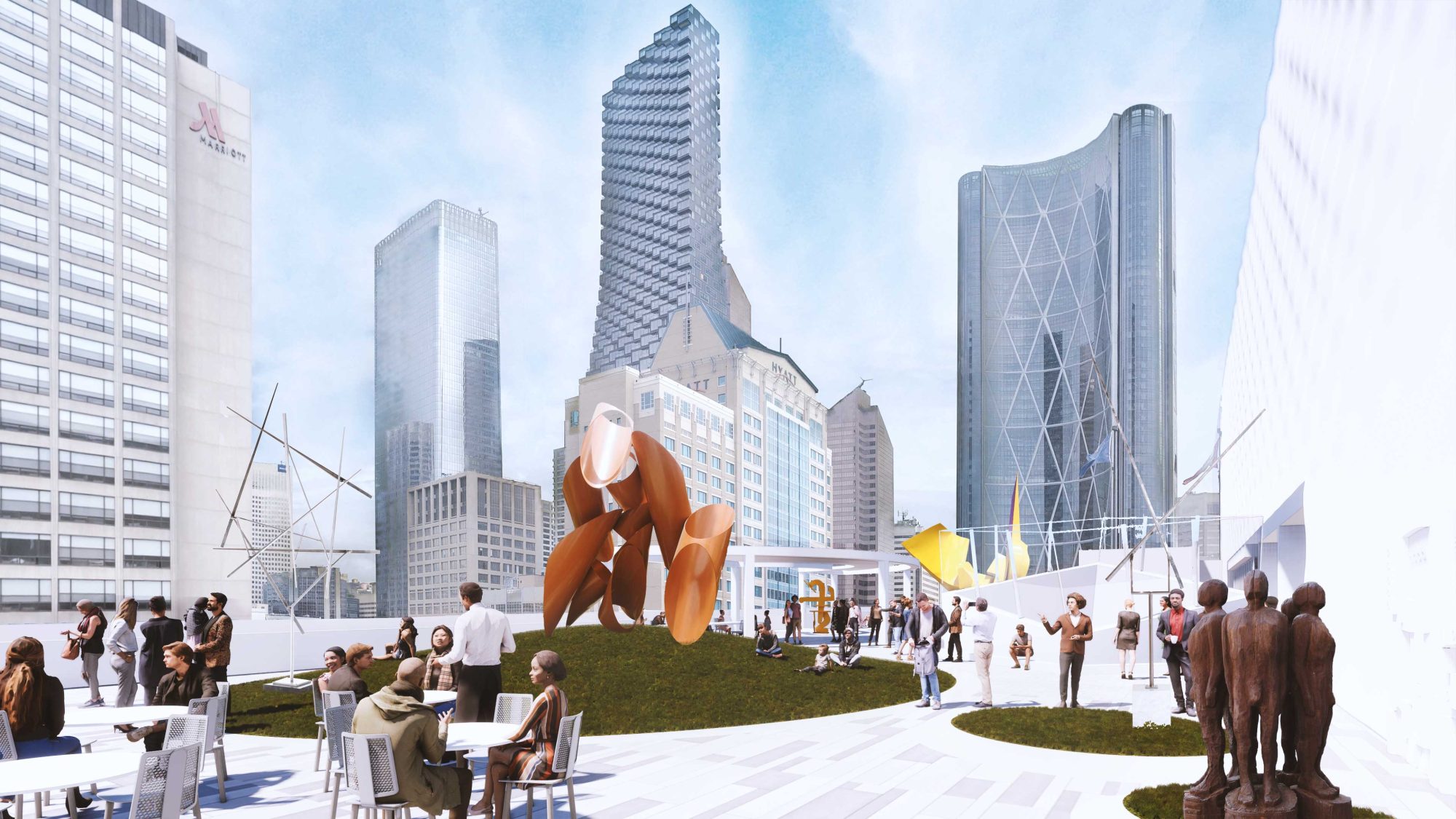 Support
Glenbow Reimagined will re-energize our cultural and economic landscape and help reframe Calgary to the world.
We asked our community about its hopes for Glenbow's future. Your feedback helped us set our campaign target at $205 million. This ambitious goal will provide the resources required to catalyze vibrancy in our downtown core while improving the way we connect with arts and culture. Forever.
With your support, we can revitalize our building and deliver an unparalleled visitor experience, including dynamic new exhibitions and programs. Help us build a thriving, accessible institution driving curiosity, creativity and learning for generations to come.
Along with the $35 million transformational gift in honour of JR Shaw and $22.5 million already committed by Glenbow supporters nationally, we have secured funding from all three levels of government: $40 million from the Government of Canada, $40 million from the Government of Alberta and $25 million from the City of Calgary. We now seek to raise the final $42.5 million from our community.
Make an Impact
Your support today means a brighter tomorrow – for Calgary, for Canada and beyond. Together we can rebuild our museum as a source of inspiration and innovation for the whole community.
Glenbow at the JR Shaw Centre for Arts & Culture – a place for everyone, a community hub, and a museum dedicated to the future of art and culture in Canada.
Just imagine.
TO LEARN MORE AND SUPPORT OUR CAMPAIGN – GLENBOW REIMAGINED – PLEASE CONTACT:
Jeni Piepgrass
Vice-President, Advancement
jpiepgrass@glenbow.org
Stories
Co-Chairs
Community
Understanding your ideas and aspirations for Glenbow Reimagined is critical to its success.
Over the last five years we've been asking the community how Glenbow could be a more relevant and accessible museum. This feedback helped inform our initial ideas and aspirations for the museum's renovation. In 2021, with a clearer picture of what the future Glenbow could look like, we went back to the community for input. Beginning with one-on-one conversations with community leaders and stakeholders, we then canvassed a broader segment of the community with an online survey and heard from over 1200 Calgarians. Through this research we were better able to understand public expectations for the renovation and what aspects of Glenbow's proposed redesign and operations will be the most beneficial. Finally, through two virtual open-house sessions, Glenbow shared information on the renovation plans, focusing on sustainability, innovation and community interface.
These phases of community engagement and research have confirmed support for the primary goals of Glenbow's renovation and provided insight into programming, amenities and spaces that are crucial to an enhanced visitor experience when we reopen. Throughout the course of our renovation, we will continue to update the community on our progress, ensuring this feedback is built into the project's evolution.
Engagement with Indigenous Communities
In 2021 Glenbow hired Many Chief Consulting to develop a strategy that would connect the museum with Indigenous communities, informing our short- and long-term planning through the meaningful incorporation of Indigenous knowledge and perspectives in the museum's design, programing and operations. This strategy focused on three key areas that supported respectful and meaningful communications with Indigenous communities: building knowledge, building relationships and building the path forward. Through virtual engagement sessions with members of Treaty 7 and other Indigenous communities, recommendations were made on design, care for Indigenous belongings, relationship building and future exhibitions and programming. 
If you have any questions regarding Glenbow's Indigenous engagement strategy, please contact us at indigenousengagement@glenbow.org.
Questions
Glenbow's 1970s building is facing many challenges. Its building systems and exterior envelope are at the end of their life-cycle and beginning to fail. Originally built as a vault for the collection, the museum is dark and closed off from the city that surrounds it. Its original design and architecture does not adequately address the accessibility and visitor experience needs our community demands today. And, currently, Glenbow doesn't have its own front door. All of this is changing.
Emerging post-renovation as the JR Shaw Centre for Arts & Culture, our reimagined building will be an inspiring home for Glenbow's collection, exhibitions, programs and events. This renovation will achieve a vibrant urban space that engages with the city and is a highly visible and active destination – a hub of creativity, innovation and community.
The campaign target, when achieved, will fund the following goals for a total campaign target of $205 million.
$130 million for base building renovations
$40 million for visitor experience and program
$10 million for the JR Shaw Institute for Canadian Art
$25 million for the JR Shaw Free Admission Endowment
As of March 31, 2023, we have raised approximately $162.5 million, leaving $42.5 million to raise to fulfill the complete vision for Glenbow Reimagined.
In February 2020, the Government of Alberta announced its support for Glenbow Reimagined – a catalyst that kicked off our fundraising and accelerated planning for the renovation.
In May 2020, we began building our team and hired the following firms to provide key support for the renovation project: M3 as development manager; Dialog as prime design consultant; and Ellis Don as construction manager.
In fall 2020 we received funding from the City of Calgary: $14 million from the Municipal Stimulus Program to support the first phase of renovation. This focused primarily on the upper floors of the museum and addressed updates to the museum's mechanical and electrical systems, abatement of hazardous materials and upgrading and moving museum collection storage.
In the spring 2022 all remaining renovation work will begin, including the removal and replacement of the concrete exterior building envelope and major changes to the museum's interior spaces.
The complete renovation is scheduled to be finished in 2026.
In early 2021 we began planning new collection storage systems and throughout the year moved collections into newly installed high-density systems. Throughout this process the collection has been carefully managed and protected as it is packed and moved within the museum. The collection will be secure in the new storage facilities while the rest of the building is renovated. As of today, over 100,000 collection items have been rehoused, ensuring their protection and access for decades to come.
In addition to our incredible Glenbow team, we are supported by many high-quality service providers who are working with us to transform Glenbow's vision into reality.
Accessibility Consultant: Universal Access
Acoustics Consultant: Charcoalblue
Building Code Consultant: Yeo Consulting
Building Decommissioning Technical Manager: Read Jones Christoffersen
Building Energy Modelling: Footprint
Building Façade CM Design Assist Partner: Ferguson Corporation, Heavy
Building Envelope Specialist: Entuitive
Building System Operations: Calgary Telus Convention Centre
Civil Engineering Consultant: McElhanney Consulting
Commissioning Consultant: CFMS Alberta Limited
Community Engagement Consultant: Stone-Olafson
Construction Manager: Ellis Don
Development Manager: M3 Development Management
Electrical Engineering Consultant: Smith + Andersen
Electrical CM Design Assist Partner: Unitech Electrical
Geotechnical Engineering Consultant: Englobe Corp.
Hazardous Materials Consultant: Pinchin
High Density Collection Storage: ACME, Hatlie Group
Independent Cost Consultant: Altus Group
Indigenous Engagement Consultant: Many Chief Consulting
IT & AV Consultants: AES Engineering
Landscape Architect: Scatliff Miller Murray
Mechanical Engineering Consultant: Smith + Andersen
Mechanical CM Design Assist Partner: Botting Mechanical, Siemens
Move Management Consultants: Lyn Archdekin, Premiere Movers, RD Projects
Museum Planning Consultant: AEA Consulting
Parking Consultant: Huberman Transportation Consultants
Prime Consultant – Architect: Dialog
Restaurant and Retail Consultant: Taurus Property Group
Security Consultant: Jensen Hughes Consulting
Sprinkler Engineers: Viking Fire
Strategy, Partnership and Engagement Lead: City of Calgary Neighbourhoods Office of Partnerships
Structural Engineering Consultant: Read Jones Christoffersen
Sustainability Consultant: Integral Group
Vertical Transportation Consultant: VinSpec
Glenbow's fiscally responsible approach to renovation of the museum addresses deferred maintained and lifecycle repairs, and by reusing our existing building we're preventing the production of 56,000 t of new carbon over the lifespan of the building and keeping 38,000 t of concrete out of the landfill. Building a high performing building envelope and replacing existing obsolete systems will yield annual energy use savings of 38% and will result a reduction in Greenhouse Gas Emissions by 41%.
Glenbow Reimagined will serve as an important hub in Calgary's emerging cultural district, providing enhanced programming and creating increased opportunities for public engagement and community interaction, which ultimately will promote a sustainable future for the museum.