Glenbow is temporarily closed
Glenbow will be closed to the public until further notice, to support bending the COVID-19 curve in Alberta. Learn more about the Provincial Government's current public health measures here. 
Our top priority is the health and safety of our visitors, staff and our community. We'll miss you over the next few weeks, but you can find us online where we'll continue to find ways to connect virtually with #GlenbowFromHome programming.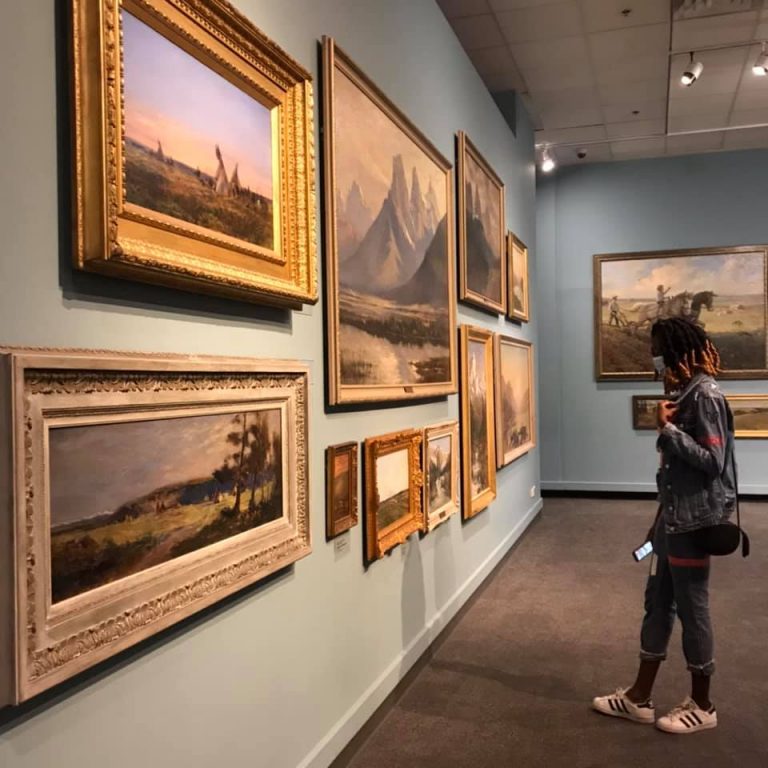 What to expect on your next visit
Some of our classic exhibitions have now closed as we begin building renovation work at Glenbow. The second floor galleries will remain open in 2021 with new exhibitions throughout the year.
All visitors are required to reserve timed tickets before arrival to maintain safe physical distancing in the museum. Tickets must be reserved at museumvisit.ca
Make sure you bring your reservation confirmation
You can bring your booking confirmation either as a print out or on your phone. Or, have your reservation number ready for us to look up when you arrive.
Please arrive at your scheduled time, in order to prevent delays for others
We are carefully managing our visitor capacity in the museum to make sure everyone feels comfortable and can stay physically distanced during their visit. Once you are here, you are welcome to stay in the museum as long as you like.
Pack light
Our coat check is currently closed due to COVID-19 safety protocols.
What we're doing to keep you safe
Limiting visitor numbers (maximum occupancy of 120 visitors at a time)
Timed-ticket admission to allow for capacity control and no-contact purchasing
Encouraging physical distancing with signage, spacing 'dots,' and route markers, where necessary
Limiting seating in gallery spaces
Providing physical barriers such as Plexiglas shields in customer service areas
Closing all hands-on, interactive elements and small spaces to limit visitor contact in our galleries
Providing access to multiple hand sanitizer and hand washing facilities
Increasing cleaning and disinfecting throughout our facility
Staff and visitors over the age of 2 must wear masks while they are in the museum, in accordance with City of Calgary Bylaw 26M2020
What we're asking of you
Keep each other safe
Stay home if you are not feeling well.
Masks are required.
City of Calgary Bylaw 26M2020 requires that everyone over the age of 2 wear a mask, while inside Glenbow Museum. Note that we will not be providing masks to visitors
Practice good hygiene.
Wash your hands for at least 20 seconds or use the hand sanitizer supplied throughout the museum, particularly after touching communal surfaces
Avoid touching your face and cough or sneeze into your elbow
Be patient and kind.
Keep your family unit together when walking through the Museum, and keep children within reach at all times.
There are a limited number of visitors allowed in each gallery. Practise physical distancing guidelines, keep 2 metres away from others and please wait your turn.
Book Your Timed-Ticket in Advance
Touchless-ticketing
Purchase your timed-admission online before you head to the museum. If you arrive without a timed-ticket, you will only be admitted if space is available, or you will need to purchase an online ticket for a future time slot using your mobile device.
Pre-booking also applies to free admission categories, such as Glenbow Members and the Indigenous Access Program.
Please note we cannot accept admission coupons or redeem discount offers at this time.
When you arrive
When you arrive at Glenbow, please have your ticket ready for scanning. You can print your ticket at home or present it on your mobile device.
In order to help us keep track of capacities, please arrive within 15 minutes of the start of your designated arrival time slot.
If you can't make it for your reservation, please use the link in your ticket to go online to reschedule your visit and release your timeslot for someone else to use.
What's Open?
Check out all the current exhibitions here
Art & Collections exhibitions will continue at the museum through 2021 in the second floor galleries
What's Closed?
The Glenbow Shop is now closed for building renovations
The third and fourth floor exhibition galleries are now closed for building renovations
The coat check is currently closed. Please leave large bags and bulky items at home
The Discovery Room is currently closed
There is reduced seating in the galleries
Please bring your own wheelchairs as these will not be available onsite
To remain contact-free, we are not issuing admission stickers. As such, there are no re-entry privileges at this time
Accessibility
All of Glenbow's entrances feature accessible automatic doors.
Elevators
All four floors of the museum are accessible via elevator. Only two people from different households may use the elevator at one time, to ensure physical distancing can be maintained. Please give priority elevator use to persons with reduced mobility or families with strollers.
Wheelchairs and Mobility Aids
Glenbow is wheelchair accessible. Visitors who require other mobility aids are also welcome.
For questions about accessibility options, please email us in advance of your visit at info@glenbow.org.
Support Persons
Support persons accompanying visitors with disabilities receive free admission to Glenbow. Please email info@glenbow.org to book your visit in advance. 
Service Animals
Service Animals are welcome at Glenbow.
Families with Young Children
Art is for everyone! Children and babies are welcome at Glenbow.
All visitors over the age of 2 are required to wear a mask or face covering while inside the museum. For your convenience, strollers can be used throughout all gallery spaces and diaper changing stations are located on every floor in both the men's and women's washrooms.
Breastfeeding mothers are welcome to nurse anywhere in the museum. Meals, snacks and drinks for toddlers and older children can be enjoyed in the main lobby areas.
Museum Policies and Guidelines
Food and Drink
To protect the art and artifacts, food and drink is not permitted inside our galleries. This helps prevent potential damage and ensures we can maintain environmental and pest control standards.
Photography
Personal-use photography is encouraged at Glenbow. As you take photos, please keep the safety of the art collection in mind and be courteous to other visitors. Photography is occasionally prohibited in select galleries due to copyright issues.
Media
Please contact our media relations team in advance for all media and filming requests.